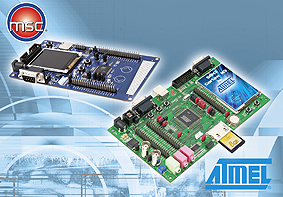 These unique "AT91SAM3N-Startup" package consists of the evalboard SAM3N-EK (ATSAM3N4CA ) 100-pin MCU in Cortex™-M3 Rev.2 architecture with 48MHz and SAM-ICE JTAG interface.
SAM3N is Atmel's latest low-end Flash family in 48-, 64- and 100-pin packages from 64K to 256K Flash and integrates USART, SPI, 16-channel 10-bit ADC and a 10-bit DAC, quadrature decoder, PWM, RTC and much more.
Furthermore SAM3N-EK features 2" color TFT, USART-, JTAG- and Micro-SD- interfaces. On-board capacitive Touch-buttons and slider will be supported by free Atmel's QTouch® library.
Like SAM3S family, SAM3N is pin-compatible with Atmel's ARM7™ SAM7S family and offers an ideal Cortex™-M3 upgrade path.
SAM3N MCUs can bei used in industrial control-, metering-, medical-, wireless- and consumer application areas.
For further information please contact MSC Vertriebs GmbH.
Contact: micros-atmel@msc-ge.com
www.msc-ge.com