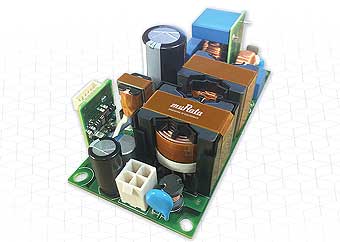 Murata announced the MVAD160 series of 160 Watt conduction cooled AC/DC power supplies. Packaged in an industry standard 2 × 4 inch (50.8 × 101.6 × 38.1 mm) format they are designed for use in next-generation high-speed compact base station equipment. Accommodating the universal AC input of 85 – 264 VAC, the series comprises three output models providing the nominal main output (V1) of +12, +24 or +48VDC with or without an auxiliary 5VDC/0.1A secondary (V2) output. Energy efficiency is typically in the range of 92 to 93% and the series offers a no-load power consumption of less than 0.3Watt. Safety and control features include overcurrent and overvoltage protection together with remote control using a negative logic signal.
Designed for use in cellular infrastructure equipment such as small cell base stations that need to endure a wide range of outdoor operating temperatures, the MVAD160 can operate across the range of -40 to +85 degrees C, and also suitable for medical or industrial applications with extended ambient temperature range or where fanless operation at limited physical space is required.
The series complies with the internationally recognized safety approval standards IEC 60950 and IEC 60601 that certify use in IT, industrial, medical and healthcare equipment.
Murata
www.murata.com