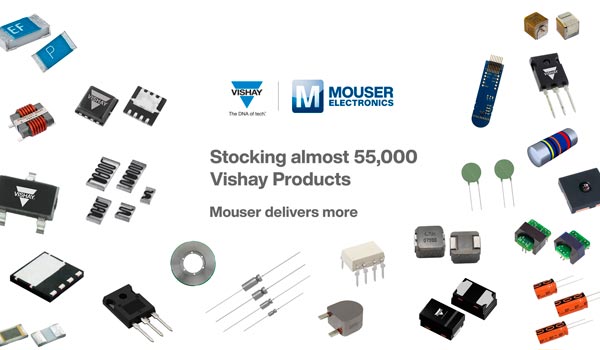 Mouser Electronics, Inc. is a global authorized distributor of products from Vishay Intertechnology, Inc., one of the world's most trusted manufacturers of electronic components. With almost 55,000 Vishay products in stock, Mouser offers an ever-widening selection of the manufacturer's newest products, from discrete semiconductors — including diodes, MOSFETs and infrared optoelectronics — to passive electronic components such as resistors, inductors and capacitors.
The following are just a few of the popular Vishay solutions available from Mouser:
SMDY1 devices are the industry's first surface mount ceramic safety capacitors with Y1 rating of 500 VAC and 1500 VDC. The devices offer capacitances up to 4700 pF, with Class IIB humidity robustness (85°C and 85% RH for 500 hours) to meet the IEC 60384-14.4 Annex I standard.
Vishay 600 V FRED Pt® Gen 5 hyperfast and ultrafast rectifiers feature low conduction and switching losses and are ideal for high-frequency converters. The rectifiers are specifically designed to improve the efficiency of power factor correction (PFC) and output rectification stages of electric vehicle/hybrid electric vehicle (EV/HEV) battery charging stations as well as the booster stage of solar inverters and uninterruptable power supply (UPS) applications. The devices are perfectly matched to operate with MOSFETs or high-speed IGBTs.
T54 vPolyTan™ polymer surface-mount chip capacitors are available with voltage ranges from 16 VDC to 75 VDC and capacitance ratings up to 2800 µF (stacked capacitors). The capacitors offer high-reliability processing, including accelerated voltage conditioning, thermal shock, and statistical DC leakage screening at elevated temperature and voltage.
IHLP-2020CZ-8A automotive-grade fixed inductors are designed to operate in high temperatures up to 180°C. The inductors offer excellent DC/DC energy storage up to 2 MHz, making them suitable for a variety of automotive applications, including under the hood.
As a testament to the strong relationship with Vishay, Mouser received the Americas Passives High Service Distributor of the Year award in 2020 for the second consecutive year. Over the last decade, Mouser has received a long list of awards from Vishay, including 2019 Americas' DOY, 2018 Catalog DOY and 2018 Semiconductor Catalog DOY, as well as 2017 Semiconductor Catalog DOY and 2015 North American Catalog DOY. Mouser's Europe team has received the e-Commerce DOY for Europe award 2013 through 2016 and in 2018.
To learn more about Vishay products available from Mouser Electronics, visit https://www.mouser.com/manufacturer/vishay/.