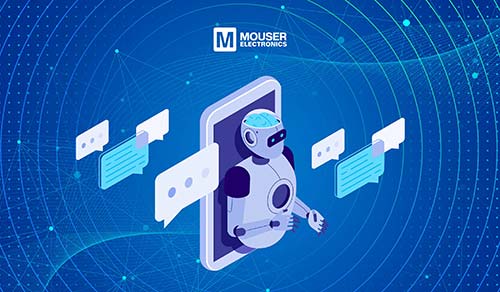 Mouser Electronics, Inc., the New Product Introduction (NPI) leaderTM, is empowering engineering professionals with an easy-to-navigate resource library to support them in industry-leading robotics designs. Manufacturers, fulfillment centers and other key markets are capitalizing on the development and adoption of robotics applications to become more efficient, reliable and safer. It's imperative for design engineers to continually develop, upgrade and optimize robotic projects, using the right component solutions and technical resources.
Mouser's robotics resource hub gathers videos, eBooks, and products all in one place making it simple for users to explore the many advancements in robotics. Mouser analyzes the various opportunities that these technologies present, whether it's for industrial warehouses or autonomous consumer luggage, and shares cutting-edge solutions that help overcome potential challenges.
Mouser stocks the industry's widest selection of semiconductors and electronic components, including the following solutions, suitable for robotic applications:
For the latest on solutions for robotics, visit https://resources.mouser.com/robotics.