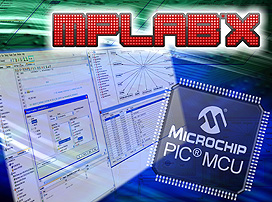 Microchip announces its next-generation, open-source Integrated Development Environment (IDE) with cross-platform support for Linux, Mac OS® and Windows® operating systems. The new MPLAB® X IDE introduces a host of high-performance features including the ability to manage multiple projects and tools with simultaneous debugging, an advanced editor, visual call graphs and code completion. MPLAB X is also unique in the industry due to its support for a complete portfolio of 8-, 16- and 32-bit microcontrollers, including all 800+ PIC® microcontrollers, dsPIC® digital signal controllers and memory devices.
A video demonstration of the new MPLAB X IDE is available at: http://www.microchip.com/get/D413
The combination of the feature-rich MPLAB X IDE with the high-performance and migration-friendly PIC® microcontroller portfolio delivers a universal, flexible and easy development platform for next-generation embedded designs. These demand an IDE that provides a solid foundation for high-performance, user-friendly and flexible development, as well as compatibility with a wide range of development tools and a broad microcontroller portfolio to simplify migration, decrease the learning curve and protect existing investment in tools and code. MPLAB X provides a single, unified graphical interface for Microchip and third-party tools, including the MPLAB ICD 3, PICkit™ 3 and MPLAB REAL ICE™ debugger/programmers.
MPLAB X builds on the core benefits of the Oracle Sponsored open-source NetBeans platform which has an active user community that can contribute a wide range of enhancements and third-party plug-ins. Microchip customers can also take advantage of free NetBeans software components and plug-ins that are available immediately, as well as the capability to customise MPLAB® X IDE to match individual development needs.
Additional features of the new MPLAB X IDE include:
• Import utility for quick and easy migration of projects from the previous MPLAB IDE platform
• Code completion and context menus via advanced editor
• Configurable watch window
• Supports multiple compiler versions, simultaneously
• Team collaboration tools for bug tracking and source-code control
With MPLAB X IDE, Microchip continues its unrivalled reputation for providing low-cost yet powerful embedded development platforms to support a complete range of highly functional and peripheral-rich PIC® microcontrollers, dsPIC® digital signal controllers and memory devices. To help ensure that there are no disruptions to active projects, Microchip will also continue to support the current MPLAB 8 environment.
The MPLAB X IDE can be explored via a free download at: http://www.microchip.com/get/D413.
Alternatively, provide feedback via the MPLAB X Users' Forum at http://www.microchip.com/get/M6RA
Microchip Technology
www.microchip.com