Eching, Germany/San Jose, California, May 02, 2011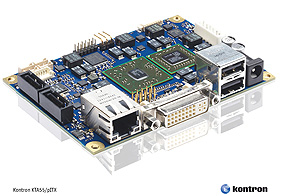 The new Kontron 2.5-inch Pico-ITX embedded single board computer (SBC) KTA55/pITX is Kontron's smallest SBC platform based on the AMD Embedded G-Series with Fusion technology. With its extensive range of dedicated interfaces, extremely small footprint (100 x 72 mm) and low power requirements, Kontron's newest embedded SBC is the fastest and most cost-effective entry into the development of graphics-intensive small form factor applications. With the Kontron KTA55/pITX SBC, OEMs can utilize DirectX 11, full HD video display (1080 i/p), dual-screen control and reduce development time for small box applications such as those found in the latest digital signs and user-friendly sales kiosks.
With just 9 W TDP for the accelerated processing unit – which integrates one or two 64-bit processor cores, a programmable graphics unit plus a PCI Express Gen 2.0 controller and a DDR3 RAM controller – the new Kontron 2.5-inch Pico-ITX embedded SBC KTA55/pITX is the perfect fit for low power applications. Developers can rely on existing cooling concepts from Kontron's portfolio and accelerate the system development. Target applications include all SFF applications with high graphics and video performance requirements. That includes POS/POI multimedia kiosks and dual-screen installations in infotainment systems, control rooms and machine controls. Thanks to OpenCL support, computation-intensive applications in the low-power segment, such as image processing and digital signal processing, benefit from Kontron's latest off the shelf platform through minimized development times and a simplified design-in process.
The feature set in detail
The Kontron 2.5-inch Pico-ITX embedded SBC KTA55/pITX features the 1.2 GHz Single-Core processor AMD T44R or the 1.0 GHz Dual-Core processor AMD T44N. The new SBC integrates up to 4 GB RAM on a DDR3 SODIMM module allowing OEMS to easily scale the system configuration according to individual needs. With the DVI-I output for DVI and VGA, the 24-bit dual channel LVDS interface and the backlight output (switchable from 5 V to 12 V), OEMs can implement dual-monitor applications with resolutions up to 2 x full HD (1080p). In addition, the integrated unified video decoder minimizes the CPU load in the decoding of H.264, VC-1, MPEG, WMV and DivX HD videos. Along with the integrated high definition audio (HDA), which provides a crystal-clear audio output, the Kontron 2.5-inch Pico-ITX embedded SBC KTA55/pITX enables extremely energy-efficient video applications. With 6 x USB 2.0 OEMs can make use of a broad range of cost efficient peripherals for application-specific expansions. The integrated 10/100/1000 Ethernet port offers the highest compatibility and bandwidth for networking applications. Storage media can be integrated over three 6.0 Gb/s SATA connections which can take full advantage of the high transfer rates of the more recent solid-state drives. A trusted platform module provides data security for safety critical applications and an LPC bus for legacy peripherals and 8 configurable GPIOs round out the feature set.
The Kontron 2.5-inch Pico-ITX embedded SBC KTA55/pITX supports Windows XP, Windows XP Embedded, Windows Embedded Standard 7 and Linux. Pre-production models will be available in July 2011, serial production will begin in late Q3 of 2011.
For more information on the Kontron 2.5-inch Pico-ITX embedded SBC KTA55/pITX, please visit: http://www.kontron.com/products/boards+and+mezzanines/embedded+sbc/pitx+25+sbc/kta55pitx.html
More about Kontron embedded Single Board Computers:
http://www.kontron.com/technologies/single-board-computers/
Kontron's white paper on the AMD Embedded G-Series:
http://kontron.com/AMD_GSeries/
Kontron
http://www.kontron.com