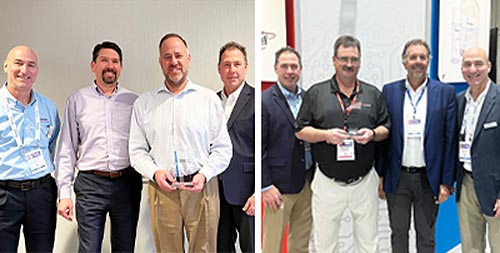 MicroCare, LLC, the industry's leading manufacturer of critical cleaning, coating and lubricating products, recognized its highest achieving North American partners at the 2023 IPC APEX EXPO, in San Diego, CA with the presentation of the 'MicroCare Distributor of the Year' and 'MicroCare Representative of the Year' awards.
The nation-wide Distributor of the Year Award was presented to TestEquity, the electronics industry's largest authorized distributor of electronic test and measurement solutions and production supplies.
"When choosing the winner of the 2023 Distributor of the Year Award, TestEquity stood out for their dedication and commitment to grow the MicroCare business," said Ray Bellavance, MicroCare VP of Global Sales and Marketing.
Tom Tattersall, MicroCare Chief Executive Officer added, "TestEquity easily met the standards that we look for in a top distributor partner. They stock the full line of MicroCare products so our customers receive them faster. They also promote MicroCare products both through digital marketing and in-person end-user events. Our joint, collaborative sales and marketing strategies and programming have contributed to their success this past year."
Also honored during the APEX EXPO was the team at REStronics Mid Atlantic, a leading independent manufacturing representative and sales agency for the electronics and medical device manufacturing industries.  They received the North American Representative of the Year award.  "REStronics Mid Atlantic provides some of the best technical support in the industry. Their technical expertise, product support and credibility with their customers are a major asset to MicroCare and contributed to winning the well-deserved award," said Bellavance.
"We are fortunate to have such high performing distributors and sales representatives to help support our MicroCare customers. Congratulations to our winners and we look forward to continuing our long-term partnerships," concluded Tattersall.