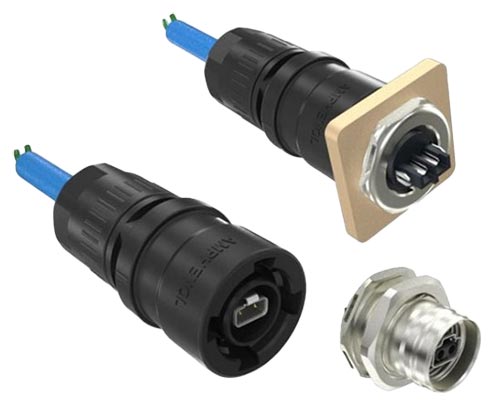 Amphenol's Single Pair Ethernet (SPE) connectors for industrial applications enable direct Ethernet connection to peripheral devices. These include sensors, actuators, and cameras for vision systems operating at speeds up to 1 Gb/s. The products consist of rugged SPE jacks, which are available in right-angle or vertical versions. That allows uncomplicated PCB mounting without any problems. Combined with field-terminable connectors, Amphenol offers a fully shielded interface with metal interlocking features. The current carrying capacity of up to 4 A supports Power over Data Link (PoDL) up to 1 km. This eliminates the need for slow, expensive, and complex fieldbus protocols and connections – while simplifying and standardizing new and existing industrial network systems. The SPE connectors, as well as other Amphenol products, are available at www.rutronik24.com.
As more and more sensors require transmission rates that BUS systems can no longer guarantee, the need for a more powerful and streamlined infrastructure increases significantly. In addition, existing Ethernet infrastructures are not economically implemented for most field applications. Here, the focus is on cables, connectors, and device components. With SPE connectors from Amphenol, these structures are significantly optimized and costs are saved. In addition to data transmission via Ethernet, the simultaneous power supply of the end devices via Power over Data Line (PoDL) is possible.
Until now, two copper pairs were required for Fast Ethernet (100 MB) or four copper pairs for Gigabit Ethernet. Amphenol's SPE connectors open up completely new possibilities and areas of application for Industrial Ethernet, especially in automation and railroad technology. The miniaturized SPE standard interface for industrial applications can efficiently reach every sensor and actuator in the field in combination with slim SPE cables.
The most important parameters at a glance:
Full compatibility with IEC 63171-6 connections from other authorized suppliers ensures future compatibility and investment security
Single-pair cables reduce cost, weight, and space requirements compared to 2- and 4-pair cables
Mechanically robust and secure interlock with 360° shielding for superior performance in harsh environments
Field-terminable IDC connectors provide installation flexibility
SPE eliminates the need for costly protocol conversion gateways
For more information about Amphenol's Single Pair Ethernet (SPE) connectors for industrial applications and a direct ordering option, please visit our e-commerce platform at www.rutronik24.com.