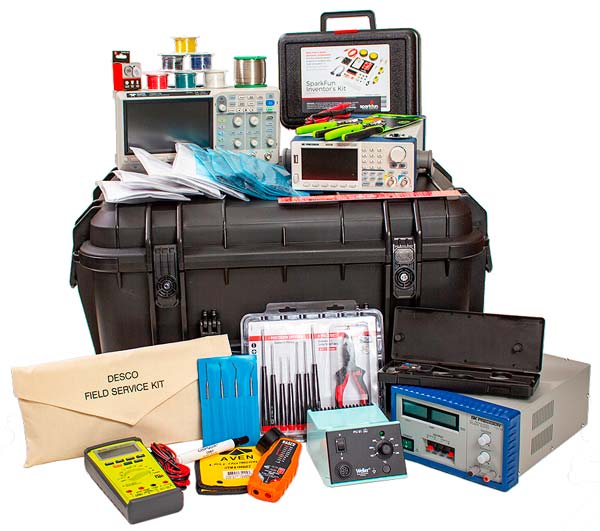 The #DKBack2School prize draw being run by Digi-Key Electronics, a global electronic components distributor, and Texas Instruments (TI) is offering European University and Technical College students and lecturers a chance to win three Digi-Key InstaLab kits and five TI educational kits. Students and lecturers with a valid university or technical college email address can enter by visiting Digi-Key's official Back2School contest page.
"As the 2019-2020 school year launches, Digi-Key is excited about the prospect of partnering with TI to enable students and lecturers while they pursue their passion for education, development, success, and fun," said Hermann Reiter, Director, Global Strategy Programs Development & EMEA Support Development. "As we continue to extend our reach into university engineering and STEM programs around the world, our goal is to provide students and teachers with the tools and experience they'll need to be successful early in their careers."
The InstaLab was created with the intention of providing enough gear to turn an electronics student's dorm room into their own makerspace. The kit includes over 20 different products from many of Digi-Key's trusted supplier partners.
Digi-Key's Academic Program offers the university and technical college audience the company's unparalleled and consistent level of service coupled with the rich content, 24/7 technical support, resources, tools, and customized solutions for schools, including thousands of educational kits.
"The Digi-Key Academic Program supports students and professors worldwide with a wide range of activities, ranging from student design projects to curriculum development," said YC Wang, Director, Global Academic Program. "For more information on how we can help you or your school, please reach out to academicsales@digikey.com."
Students and lecturers should also check out Maker.io for project and design ideas for makers and engineers at any experience level. Maker.io is the perfect complement to digikey.de. Whether you are just starting out or are already down the design path, you are able to access pre-curated content, solutions and resources from industry professionals, as well as your peers, to help guide you through the phases. No matter where you are on your design roadmap, Maker.io can help you bring your product and dreams to market. 
About the Back2School Prize Draw
Who: Any student or lecturer in Europe with a valid university or technical college email address
Prizes:  Three tiers of prizes including:
Three (3) Digi-Key InstaLabs
Five (5) TI educational kits
How to enter: Participants have from October 1 – 31 to register with the winners being announced the week of November 4th. Official details and contest rules are available on the Digi-Key website.