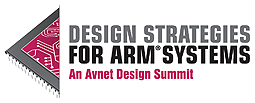 Avnet Abacus – one of Europe's leading interconnect, passive, electromechanical and power distributors – is to support its sister companies EBV Elektronik, Silica, Avnet Memec & Avnet Embedded at the recently-announced 'Design Strategies for ARM® Systems' seminar program which will play in 16 cities across Europe in May and June.
Design engineers will gain an exclusive opportunity to learn how to harness ARM's latest mobile technology which is finding applications not only in the consumer market, but also in other growth sectors such as defence and medical. Attendees will also benefit from learning how to leverage the many supporting technologies from Avnet EM's other Design Strategies for ARM Systems partners such as Freescale Semiconductor, Texas Instruments, STMicroelectronics, Cypress, Microsoft and Xilinx.
Ensuring that designers choose the best passive, connector, power and emech technology to back up the enabling silicon solutions, Avnet Abacus – the IP&E division of Avnet Electronics Marketing– has a significant presence at these seminars, displaying power and connector products from Emerson, TE Connectivity , Molex, FCI and Varta Microbattery as well as the recently introduced Cymbet solid state franchise. Key focus will be given to technology product offerings including: Cymbet Energy harvesting power management solutions, Emerson network power supplies including the NPS20-M & NPS60-M series; and USB/ HDMI and USB/IEEE-1394 connectors from Molex and TE Connectivity respectively.
For complete information about Design Strategies for ARM Systems, visit: www.weboom. com/avnet2011/reg_europe.html.
Avnet, Inc.
www.avnet.com