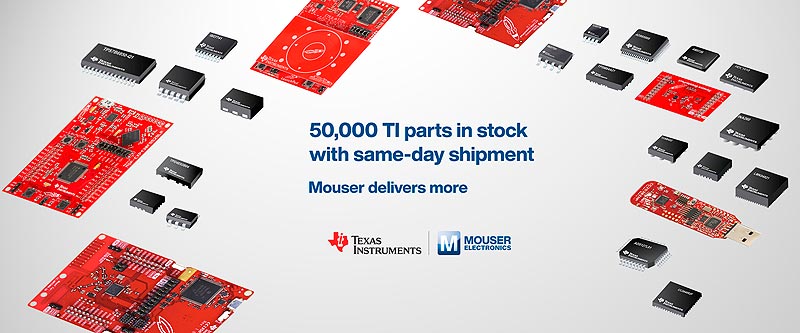 Mouser Electronics, Inc., the industry's leading New Product Introduction (NPI) distributor, is an authorized global distributor of Texas Instruments (TI) solutions. With over 50,000 TI products, including over 4,500 development kits, Mouser offers the broadest portfolio of the newest Texas Instruments semiconductor solutions, adding new products every day.
"Mouser and TI are celebrating 15 years of a strong and mutually beneficial relationship in 2021," said Jeff Newell, Senior Vice President of Products at Mouser. "TI is a key manufacturer partner, and Mouser is proud to be the global authorized distributor with the widest selection of TI products in stock. TI is a leader in the semiconductor industry relative to bringing new products to market. With Mouser's role as the industry's NPI leader, we are always working to quickly bring their newest products to our large and growing customer base."
The following are just a few of the most popular TI products available from Mouser:
The TI IWR6x mmWave sensors are integrated single-chip frequency-modulated continuous-wave (FMCW) radar sensors built on TI's 45 nm RFCMOS process. Providing unprecedented levels of integration and on-chip processing capabilities, the 60 GHz – 64 GHz sensors allow engineers to integrate mmWave technology into a broad range of factory automation, radar, robotics, and building automation designs.
The CC2642R and CC2642R-Q1 SimpleLink™ microcontrollers combine a flexible, very-low-power RF transceiver with a powerful 48 MHz Arm® Cortex®-M4F CPU in a platform that supports multiple physical layers and RF standards. A dedicated radio controller with an Arm Cortex-M0 core handles low-level RF protocol commands that are stored in ROM or RAM to ensure ultra-low power and great flexibility.
TI's AMC3301 and AMC3301-Q1 precision, isolated amplifiers feature a fully integrated, isolated DC/DC converter that allows single-supply operation from the low-side of the device. The amplifiers are ideal for isolated voltage sensing in end devices such as motor drives, photovoltaic inverters, power delivery systems, electricity meters, and protection relays.
The TPS546D24A is a highly integrated, non-isolated SWIFT™ synchronous buck converter capable of high-frequency operation and 40 A output. The device is stackable, meaning that two, three, or four TPS546D24A devices can be interconnected to provide up to 160 A on a single output. The converter features a PMBus interface with 1 MHz clock support to provide a convenient, standardized digital interface for converter configuration.
To learn more about the latest TI solutions available from Mouser Electronics, visit https://www.mouser.com/new/Texas-Instruments/.