Toshiba Electronics Europe (TEE) will be showcasing technologies from across its wide range of standard and custom semiconductor solutions at Embedded World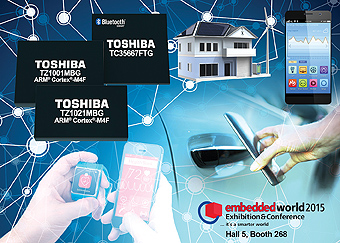 2015.
Demonstrations featuring various application processors from Toshiba's ApPLiteTM range that support secure communication and provide timely processing of text, sound, image and sensor data. In combination with recent advances in big data, these application processors make it easier to develop services that provide users with greater value and convenience.
In addition to the application processors, Toshiba's latest Bluetooth® 4.0 / 4.1 devices will be demonstrated, including its recently announced Bluetooth – NFC-Tag combo IC that enables effortless "click and connect" pairing.
Toshiba's comprehensive range of storage technologies, including hard disk drives (HDDs) and solid state drives (SSDs) will be on display at the show. Also featuring prominently will be Toshiba's extensive range of NAND-based memory technology, including SD cards, USB flash drives, and embedded NAND solutions such as BENANDTM and e•MMC™ memory solutions.
Other sections of the stand will highlight solutions that help to accelerate application development in areas including industrial, multimedia, telecoms, smart communities, networking, home appliances and consumer devices. These will include microprocessors / microcontrollers, TransferJetTM technology, wireless power ICs, motor drivers, ASICs, FFSA and CMOS sensors. Automotive solutions for ADAS and infotainment will also be on display – including high-performance, low-power ARM-based MCUs.
* ARM® and Cortex® are registered trademarks of ARM Limited (or its subsidiaries) in the EU and/or elsewhere.
* ApPLiteTM is a trademark of Toshiba Corporation.
* Bluetooth, Bluetooth Smart and Bluetooth Smart Ready are registered trademarks owned by Bluetooth SIG, Toshiba uses them under license.
* All other trademarks and trade names are properties of their respective owners.
Toshiba Electronics Europe
www.toshiba.semicon-storage.com