Toshiba Electronics Europe (TEE) has launched a new Smartwatch Reference Model, with enhanced sport, activity and lifestyle features. Built around the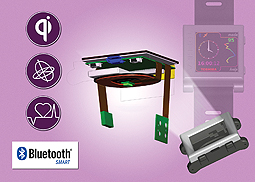 TZ1001MBG ApP LiteTM application processor, it provides developers with an ideal starting point for designing future smartwatches for sport watch applications.
The TZ1001 Smartwatch Reference Model enables designers to evaluate the function and performance of advanced software and technologies developed for wearable devices. Fitted with an accelerometer, gyroscope, magnetometer and optical pulse sensor, to measure motion, movement and heartbeat, the Reference Model provides an ideal structure for prototyping devices aimed at the active-lifestyle and wellbeing sectors.
The Reference Model follows the launch of the TZ1001MBG, a single package application processor with integrated accelerometer sensor for data collecting, a processor for data processing, flash memory for data storage, and a Bluetooth® Low Energy controller for data communication. Integration of these features makes it possible to create compact, lightweight wearable devices that do not require any additional components.
Battery life being crucial to wearable devices, the TZ1001 Smartwatch Reference Model has been specifically designed for low power performance and is fitted with a Bluetooth Low Energy controller to ensure effective communication with smartphones and tablets. The smartwatch reference model is equipped with a Toshiba Wireless Power Receiver IC TC7764WBG and Toshiba Fast Charger IC TC7710AWBG for quick and simple WPC Qi wireless charging in addition to a micro USB port.
* ApP LiteTM is a trademark of Toshiba Corporation.
* Bluetooth, Bluetooth Smart and Bluetooth Smart Ready are registered trademarks owned by Bluetooth SIG, Toshiba uses them under license.
Toshiba Electronics Europe
www.toshiba.semicon-storage.com