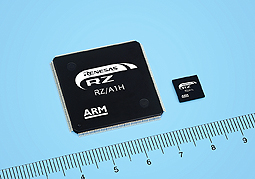 MSC will offer the new products in the RZ/A1 Group of ARM® Cortex™-A9 embedded microprocessors (MPUs) from Renesas Electronics. With up to 10 MB of on-chip RAM and various peripheral functions such as camera input, hardware-accelerated graphics output, OpenVG 1.1 and audio, the new embedded MPU solutions are ideally suited for creating sophisticated human machine interface (HMI) implementations.
The RZ/A1 Group has a 2D graphics acceleration engine that conforms to the OpenVG 1.1 interface. This enables a high-precision 2D graphical display and, at the same time, reduced load for the actual CPU core. Since OpenVG uses vector graphics calculated during render time for the image composition, highly complex animations can be generated, without the need to connect some additional megabytes of external memory to the MPUs. In addition, as a standardized programming interface, OpenVG 1.1 is compatible with many existing human machine interfaces (HMI) from third parties.
The video display controller, which is also integrated, offers up to two video inputs for various formats, also including PAL, and can automatically scale the video signal. Formats up to 1999 × 2035 pixels are supported at the outputs. In addition, the controller provides functions such as video recording, image capture including JPEG encoding as well as diverse functions for image optimizations.
MSC Vertriebs
www.msc-ge.com