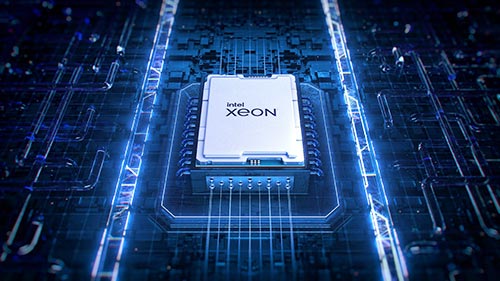 With the Intel® Xeon® W-3400 and W-2400 (code-named Sapphire Rapids), Rutronik Elektronische Bauelemente GmbH is adding new desktop workstation processors to its range that are predestined for high-end computing. With new computing architecture, faster cores, and a new Embedded Multi-Die Interconnect Bridge (EMIB) package, Intel's Sapphire Rapids processors offer tremendous scalability for increased performance. Support for DDR5 RDIMM memory, PCIe Gen 5.0, and Wi-Fi 6E enables cutting-edge platform technologies and equips them for the increased demands of future computing workloads. Developers and data science experts in particular will benefit from the powerful performance. The Intel® Xeon® W-3400 and W-2400 desktop workstation processors are available at https://www.rutronik24.com.
The new Xeon W processors are available with up to 24 cores and 64 threads (Xeon W-2400) or 56 cores and 112 threads (Xeon W-3400) on a single chip, feature a redesigned memory controller and a larger L2 cache as well as the L3 Shared Intel® Smart Cache with up to 105 MB. The flagship of the series, the Intel Xeon w9-3495X, is the most powerful desktop workstation processor Intel® has developed to date. It offers performance improvements of up to 28 % single-thread and up to 120 % multi-thread compared to the previous generation. In addition, operating frequencies of up to 4.8 GHz with the Intel® Turbo Boost Max Technology 3.0 enable confident handling of the challenges posed by constantly increasing computing power.
More features at a glance:
• Increased L2 cache and shared L3 Intel® Smart Cache (up to 105 MB)
• Intel® 3rd Generation Deep Learning Boost (AVX-512 support)
• Support for select Intel vPro® Enterprise technology
• Comprehensive overclocking support for unlocked processors – including the industry's first DDR5 XMP 3.0 RDIMM memory overclocking capabilities
• Operating frequencies up to 4.8 GHz
• Intel® Turbo Boost Max Technology 3.0
Target applications:
• In the areas of media & entertainment, the new processors are predestined for the creation of 3D scenes, video effects, or game development.
• For engineering (CAD, CAE, AEC, simulation), they are ideal for product design, architectural design, product development and analysis, and product visualization.
• For scientific computing and artificial intelligence development, the Intel® Xeon® W-3400 and W-2400 processors support data science, scientific computing, or machine learning / deep learning.