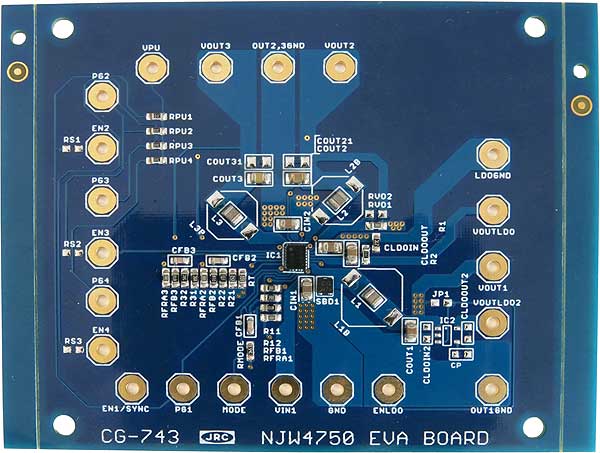 With the NJW4750, NJR presents one of the smallest 4-channel Power Management ICs on the market. The space-saving 3.4 × 2.6mm EQFN26 package incorporates three buck regulators and a LDO (low dropout) for precise voltage regulation. The NJW4750 and the matching evaluation board are available at  https://www.rutronik24.com.
Channel 1 of the Power Management IC is directly connected to the supply voltage of max. 40V and serves as the primary controller for the secondary synchronous buck regulators and the LDO. To increase the flexibility of circuit design, one of the two secondary regulators can be switched to LDO mode. Each controller has its own power-good pin and enables input, allowing for precise control of the output voltage during system power-on phase. The NJW4750 is controlled either via the external sync input or via an internal oscillator, which covers a frequency range from 280kHz to 2.4MHz, enabling the use of compact coils.
In a temperature range of -40°C to 125°C, the NJW4750 is well suited for example for generating a 3.3V power supply at max. 40V input voltage and derived voltages of 2.8V (LDO), 1.8V (channel 2) and 1.2V (channel 3).
Applications of the Power Management IC include industrial controls, camera systems, IoT boards, photoelectric sensors, single-board controllers and especially compact peripherals and sensors.
For more information about NJR's newest Compact 4-Channel Power Management IC and a direct ordering option, please visit our e-commerce platform at https://www.rutronik24.com.
https://www.rutronik24.de/produkt/njrc/njw4750mhh-t1-te1/12419258.html
https://www.rutronik24.de/produkt/njrc/njw4750+eva+board/12646236.html