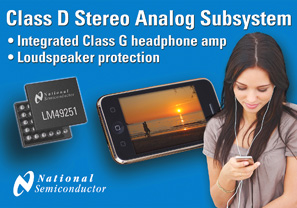 National Semiconductor Corp. announced the industry's first stereo analog subsystem with integrated Class G headphone amplifier and automatic level control (ALC) for smartphones and feature phones. The PowerWise® LM49251's Class G headphone amp dynamically reduces the supply voltage to lower power consumption and extend audio (MP3, movies, etc.) playback time. The loudspeaker's ALC provides designers with several options to control audio distortion levels and prevent speaker damage.
National's LM49251 stereo analog subsystem combines a 1.4W Class D speaker amplifier, 20 mW Class G headphone amplifier and ALC in an ultra-small 2.55 mm by 3.02 mm package. The LM49251 offers the lowest power consumption in its class, consuming less than 7 mA of quiescent current at 3.3V for the loudspeaker and headphone. The LM49251's ALC feature provides designers with a programmable output power limiter for speaker protection and clip level select.
Key Technical Features – LM49251 Stereo Analog Subsystem
Offered in a 30-bump micro SMD package, the LM49251 provides enhanced Emission Suppression (E2S) and a Class D amplifier featuring a patented, ultra-low EMI pulse-width modulation (PWM) architecture that significantly reduces RF emissions while preserving audio quality. The LM49251's Class G headphone architecture significantly increases audio playback time with its adaptive power supply approach, enabling very low supply rails and nearly doubling the power-efficiency compared to typical Class AB headphone amplifiers.
The LM49251's no-clip ALC feature prevents distortion as battery voltages drop, allowing small signals to be amplified at high gains while preventing clipping of high-level signals. Its multiple inputs provide configurability for addressing different system requirements, and the LM49251's mode selection, shutdown and volume are controlled through an I2C compatible interface. The IC's click-and-pop suppression eliminates audible transients on power up and during shutdown.
National also introduced the LM49153 mono audio subsystem, which includes the same features as the LM49251, while integrating noise gate functionality onto the Class D amplifier. The noise gate feature prevents noise from being amplified when the volume is turned up. The LM49153 is offered in a 25-bump, 2.30 mm by 2.42 mm, micro SMD package.
Pricing and Availability
Available now, the LM49251 stereo analog subsystem is priced at $1.60 each, and the LM49153 mono analog subsystem is priced at $1.50 each, both in 1,000-unit quantities. For more information on the LM49251, or to order samples, visit www.national.com/pf/LM/LM49251.html
For more information on the LM49153, or to order samples, visit www.national.com/pf/LM/LM49153.html