Delivering Industry-leading 250fs Jitter in an Ultra-small 5×5 mm Footprint, Devices are Ideal for a Variety of Communications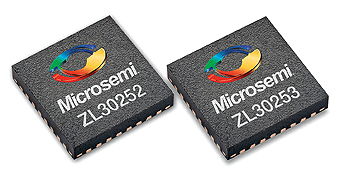 Applications.
Microsemi Corporation an­nounced its new ZL30252 and ZL30253 any-to-any frequency clock multiplier and jitter attenuator integrated circuits (ICs). With best-in- class jitter performance as a clock multiplier (160fs in the 12kHz-20MHz band) and as a jitter attenuator (250fs in the 12kHz-20MHz band) all in an ultra-small 5 × 5 mm package, these devices target new applications with tough jitter budgets and tight board real estate restrictions.
The new devices provide communication equipment customers with a timing solution that meets industry-leading jitter performance imposed by new 100Gbps PHY devices. According to market research firm Databeans, the clock generation IC market will grow to approximately $1 billion in 2017 from $700 million in 2013.
"Microsemi's new any-to-any frequency clock multiplier and jitter attenuator products complement our comprehensive timing and synchronization solutions, as well as many of our other leading-edge products that are designed for the growing communications market," said Roger Holliday, senior vice president and general manager, Microsemi's communications group.
"We are expanding our overall timing product portfolio and system solutions to address many new and leading-edge applications in the growing clock generation IC market."
The ZL30252 and ZL30253 devices also reduce the overall bill of materials (BOM) cost and simplify design with precise frequency conversion from any input frequency 1kHz to 1.25GHz to any output frequency 1Hz to 1.035GHz and jitter attenuation bandwidths from 14Hz to 500Hz. When combined with
Microsemi's ZL402xx series fan-out buffers, the new ZL30252 and ZL30253 provide complete timing solutions for complex systems such as wireless base stations, wireless backhaul, wired infrastructure, SONET/ SDH, GE, 10G/40G/100G Ethernet, optical, storage and broadcast video applications.
Microsemi Corporation
www.microsemi.com