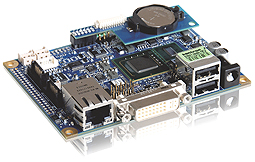 Kontron's strategic entry into the ARM technology market, as announced in September, is already bearing fruit: A Computer-on-Module specification "Low-power Embedded Architecture Platform" targeting low-power SOC and ARM architectures and a first COM sample based on the Texas Instruments Sitara™ AM387x processor has been shown at the SPS/IPC/Drives 2011 along with a NVIDIA® Tegra™ based Pico-ITX™ sample.
With its current performance offerings and low power consumption, the latest ARM technology, which is already deployed in standard tablet applications, is now an alluring option for embedded small form factor (SFF) applications. Kontron's strategic entry into the ARM technology in addition to that of ×86 derivatives is welcomed by the analysts VDC and a multitude of organizations. Konton's objective is to level out the technological boundaries between ARM and ×86 technologies as far as possible with scalable building blocks. This is of great interest to many OEMs because they will be able to obtain highly scalable platforms with complete Board Support Packages (BSPs) for all popular operating systems. The abstraction brought about by suitable hardware specific software enables the creation of increasingly homogeneous application ready platforms. OEMs will then be able to switch from one board, module or system to another with relative ease. Kontron is able to ensure this by providing appropriate standardization at the board and hardware-specific software levels coupled with the inclusion of extensive software services. The amount of software tweaking required ranges from none at all to hardly any and is dependent on the operating system used and the application programming.
ARM solutions are always accompanied by full custom designs offerings at the board and system level, which would enable an OEM to focus entirely on application development. The need to grapple with individual specific features is thus eliminated.
Pico-ITX™ Board:

SFF single board computer with NVIDIA® Tegra 2 dual core processor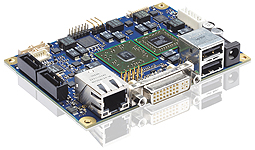 This Small Form Factor Pico-ITX™ format (100mm ×72mm) board, which is currently in development and planned for Q1/2012, is fitted with a 1 GHz NVIDIA® Tegra™ 2 dual core processor. It offers a completely passive cooling concept and a very low power consumption
of 3 Watts in addition to an attractive feature set: The ARM Cortex A9 architecture based mini board includes 10/100Mbit Ethernet, three USB 2.0 ports, 16 freely configurable GPIOs and a slot for Micro SD cards as well as 512MB or 1GB 32-bit DDR-2 RAM.
The audiovisual experience is not to be overlooked: The integrated ultra low power (ULP) NVIDIA® GeForce® GPU delivers a graphic performance for mobile devices in high play console quality and provides up to two simultaneous HD video streams (1080 p). Displays are connected via DVI-I for analog and digital signal transmission as well as via two DSI and a 24-bit LVDS converter. Backlight support is either 5V internal or 12V external. Audio is supported with SPDIF as well as stereo line-in and line-out and MIC. Extensive hardware accelerators for flash, video and audio codecs provide flowing and brilliant playback of countless multimedia and web content.
Standards facilitate implementation
A hardware design on board level demonstrates how the selection of a suitable CPU for an application can be simplified: The interface feature set of Kontron's NVIDIA® Tegra™ 2 SOC based Pico-ITX™ board (see Inlay 1), which is currently in development and planned for Q1/2012, hardly differs from that of Kontron's Intel® Atom™ or AMD Embedded G-Series designs. The main variance lies in the processor used, and hence the performance class (see Table 1).
A fundamental dissimilarity lies in the fact that the interfaces provided by ARM processors are more dedicated and less generic than for example SATA and PCI Express, which are often used for individual add-on options in ×86 based designs. On the other hand, many ARM SOCs include several UARTs, I2C and SPI interfaces. From a purely theoretical viewpoint, the ARM interfaces can be made generic and standardized by investing in additional development expenditure and components.
But this would result in a loss of the superior power saving benefits that make ARM designs so attractive: The reduced cooling requirement gives rise to the inclusion of fanless designs that are more fail safe and have a higher MTBF.
The resulting systems are thus easier to develop and manufacture. Both weight and cost are reduced because the need for heat pipes, heat sinks and fans is eliminated.
However, such development is mostly unnecessary, because when it comes to generic interfaces, particularly for SFF designs, the trend is to go for less rather than more. The difference in feature set between the Pico- ITX™ boards is thus negligible. Because the Pico-ITX™ format is standardized, application-specific selection of a suitable ×86 or ARM design can take place barrier-free, within only one ecosystem. The advantage is mechanical compatibility with the entire existing product portfolio, which greatly eases system design.
In addition to the mechanical development advantage, Kontron boards also offer benefits in terms of software. These include extensive support of all popular operating systems as well as the Kontron Embedded Application Programming Interface (KEAPI), which was released a year ago. It ensures the overall design homogeneity by respective APIs for identical functions, independent from processor, operating system and form factor. Such application ready platforms significantly reduce the time to market and development cost. The option to outsource hardware development also for ARM based solutions therefore becomes very feasible.
Scalability spanning processor platforms
Did Kontron integrate ARM in the realm of ×86 form factors? Does this mean the entire technology battle is over? If it is up to Kontron, yes. Ultimately Kontron intends to offer its embedded customers the best platform in each case and to provide access to new applications that were previously not possible. High scalability of the appropriate standard form factors across all processor platforms is very useful because it allows easier OEM porting of applications between RISC and CISC architectures. With the addition of hardware specific software services to implement necessary code modifications to some extent, the underlying processor architecture becomes ever less of a fundamental decision criterion.
Focus shifts to power consumption and performance per Watt. After an enormous success initiated by ×86 technology, the market has now entered a new era. Thanks to extensive software support, the borders between different processor technologies have sunk because the software ecosystem is now expandable to further technology platforms. Consequently, the standard form factors at the board level must also be enhanced in accordance with the new processor platforms.
Example of a visiting card sized module with TI Sitara™ AM387x processor family
The extremely compact sized (50 mm × 82 mm) ARM computer-on-module, which is currently in development and planned for Q1/2012, is based on the Texas Instruments AM387× single core processor with ARM® Cortex™ A8 and up to 1 GB DDR3 RAM. It integrates the high performance SGX530 3D graphic engine for resolutions up to 1080p at 60Hz and can thus even drive large sized panels in Full HD. Video interfaces include LVDS, embedded DisplayPort (eDP) as well as HDMI 1.3 via a MXM 3.0 connector.
I2S provides a loss-free transmission of digital multi-channel sound, which is important for example in infotainment or multimedia Kiosk/POI applications.
Its further I/O features predestine the future Kontron module for deployment in vehicles or in the industrial sector: 2× CAN (CAN version 2 Part A, B) as well as Gigabit Ethernet facilitate IT and field integration. Two MIPI-CSI (Mobile Industry Processor Interface) conformal camera inputs are also included, which can for example be used in medical applications as well as for optical quality control, gesture based control for HMIs and for personal identification at kiosk systems.
For application-specific extensions offers, the Kontron ARM module includes a PCI Express Gen 2.0 Lane and 3× SDIO, which can for example connect WiFi or 3G/4G modules. 2× USB 2.0 and 2× SPI are also included, which can be used to connect a touch screen. As a matter of interest, there's also an option to use the USB as a client. In such applications the module is attached as peripheral device to a host system. Areas of application include anywhere where complex periphery is required with decentralized intelligence, or where system functions are to be read for parametrization via USB.
For a quick start in application development, Kontron will provide an appropriate carrier board with two SDIO slots. Kontron also undertakes application-specific carrier board development including all the necessary testing, certification and basic software right up to complete system integration. This enables OEMs to fully concentrate on application development with the new ARM based modules.
New COM specification targeting ARM and low-power SOC
When it comes to ARM and ×86 techno­logy, it's not really possible to lump everything together.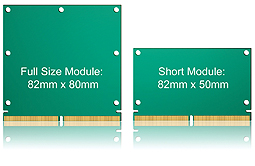 Differences between the technologies should be left as such in order to utilize their individual advantages. This is why Kontron developed a new specification for Computer-on-Modules that is particularly suitable for ARM and low-power SOC processor technology. Up to now, all existing module specifications have been influenced by x86 technology, with feature sets proving too complex for ARM technologies: For example, a classical ×86 chipset offers a multitude of typical PC interfaces such as PCI Express lanes, USB and SATA ports. But typical ARM SOCs feature more classical embedded ports such as UART, I²C, and several SDIOs, with fewer PC interfaces: PCIe ×16 graphics and PCI are for example not supported as native. ARM based SOC exhibits differences in video outputs and offers to some extent dedicated camera interfaces. In ARM processors these are often implemented according to the MIPI® standard such as Camera Serial Interface (CSI) and are currently not implemented in a module standard.
Using the new COM specification, Kontron has defined two new form factors as a future defacto industrial standard for embedded module designs based on ARM and low-power SOC technology. This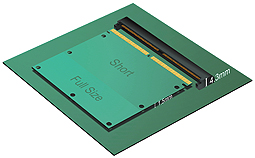 is complementary to the successful COM Express® standard. Kontron's ETX® standard has already demonstrated that "defacto" industrial standards can be successfully accepted worldwide without committees such as PICMG® or VITA®. The new COM specification embossed by Kontron is already supported by a further prominent embedded vendor, Adlink. Within Kontron itself, the new COMs form an important base platform for future scalable low power / ARM based application ready platforms such as Box PCs, HMIs and industrial TabletPCs.
The new COM specification
The new specification was developed based on the 314 pin MXM 3.0 connector. This is a durable and particularly flat construction with a cost-efficient card edge/goldfinger. Several form factors are supported in order to offer flexibility regarding various mechanical requirements. Two dimensions are consequently specified: A small 82mm × 50 mm module and a larger one at 82mm × 80mm primarily intended for future high-performance multicore processors.
Kontron has positioned the specification for the low-power performance class, such as ARM tailored modules, as a platform alternative to existing proprietary custom module implementations that are often tailored to a single ARM processor. The Kontron driven open COM specification really comes into its own with the latest MXM 3.0 connector which enables very flat designs and is also available in a shock and vibration proof construction suitable for automotive applications. Even more decisive is the fact that the pin allocation and thus the feature set are specifically designed for ARM and SOC processor technologies. The new connector gives rise to new interfaces: Video outputs include LVDS and in future embedded DisplayPort, 24-bit RGB and HDMI are also possible. For the first time dedicated camera interfaces are also included in the standard. Consequently, users no longer need to compromise or work with inefficient specifications that are stretched between between the ×86 feature set and lean ARM I/Os.
Outlook: Extensive services to get you up and running
To enable customers to begin using ARM technology immediately, Kontron will provide its ARM-based building blocks in bundles with extensive custom design services. This means OEM customers can have already integrated application ready platforms at the board and system levels as standard products or customized and made to order. In addition to this individual hardware development service at the board and system level, Kontron will provide extensive services during software development, ranging from driver development and OS code modifications to extensive application porting and validation services, as well as HW/SW bundles and volume licensing. Application developers are able to benefit from efficient migrations, quick time to market and significantly reduced development costs, because they receive an "application ready platform," which if required is already certified. This enables customers to fully concentrate on their core competence: application development.
It goes without saying that Kontron also supports all ARM relevant operating systems: In addition to Windows CE 6 and Windows Embedded Compact 7 (WEC7), Linux based operating systems will be supported as well as Android on ARM products. VxWorks support will be conceived for TI processors. This is of particular interest for applications requiring maximum availability and real time behavior. As is the case with x86 based products, Kontron's ARM products will also support the ARM native version of Windows 8 as per availability on the part of Microsoft. Kontron's support for Android, which is still a relatively young OS that is popular in the smartphone and tablet market, allows it to open up the door to the huge market of networked, multimedia oriented applications based on ARM technology. BSPs will be validated for the OS right up to the system level. OEMs are therefore able to focus on the application without having to traverse a learning curve. This keeps the time to market and TCO to a minimum.
First ARM based products for the new COM specification and SFF boards Kontron plans to launch at Embedded World 2012 and complete ARM based systems like tablet-PC, HMI and Box-PC are planned for the second half of 2012 and beyond.
www.kontron.de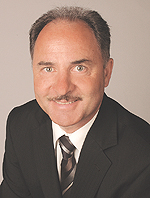 Author:
Norbert Hauser
is Executive Vice President at Kontron AG