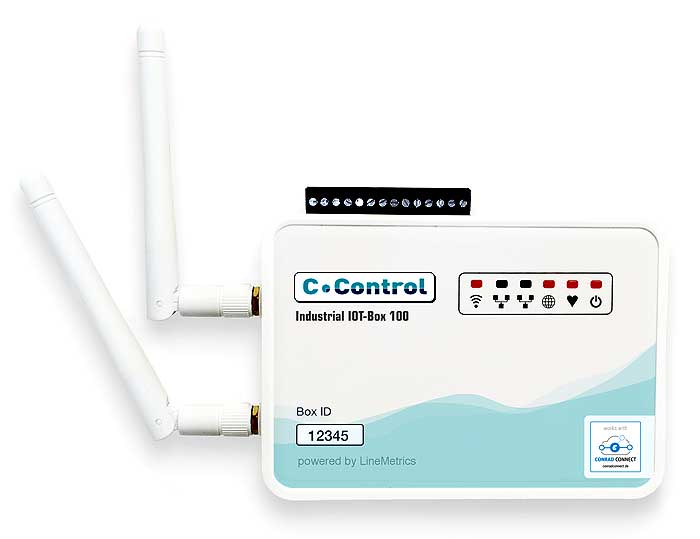 Conrad Business Supplies introduces, in cooperation with LineMetrics GmbH, its C-Control Industrial IoT-Box 100 – a complete and easy-to-use solution for monitoring various key parameters in companies' manufacturing facilities. The solution enables the utilization of sensor data for ongoing process optimization, efficiency improvements or potential problem prevention on site.
C-Control Industrial IoT-Box 100 monitors in real-time the operation of equipment, energy consumption in buildings, oil tank levels, room temperature in offices or any combination of several different sensor values, wherever placed, in small or large businesses. It is the first convenient solution that allows connection and a complete digital overview of machine functions, buildings or manufacturing plants.
The C-Control Industrial IoT solution consists of powerful hardware, communication and cloud services, easing IoT implementation. Thanks to the easy-to-use "plug & play" concept, businesses are able to launch a scalable monitoring system/ network without vast IT investment and programming effort.
With 8 universal inputs (0-10V) and Modbus RTU 485 support, sensor data is recorded in high speed and transferred to the C-Control Industrial IoT Cloud via the mobile network. The pre-activated SIM card and global GSM coverage ease the connectivity without any headaches so customers can concentrate on optimizing and evaluating the data.
With a choice of several hundred compatible sensors, Conrad offers the right sensor for every application and, if necessary, for expanding the sensor network.
Conrad Electronic    |    www.conrad.com