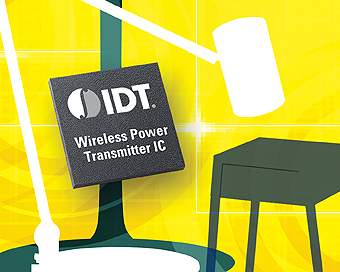 Integrated Device Technology, Inc. (IDT®) announced that IKEA chose IDT's wireless power transmitters to embed in its furniture and accessories for convenient wireless charging of enabled portable devices. IDT's P9030 magnetic induction transmitters are embedded in new IKEA products including side tables and lamps. The products will soon be available in stores throughout North America and Europe.
In addition to the furniture, IKEA has developed a line of charging pads as well as a wireless charger that consumers can build into furniture themselves—all built around the IDT wireless power semiconductor.
"IKEA revolutionized the furniture industry, and it continues to prove itself an innovation leader with the integration of IDT wireless charging transmitters into its products," said Arman Naghavi, IDT's vice president of Analog Power Technology. "The company's adoption of our Qi technology underscores the traction we're seeing as the wireless power ecosystem continues to expand."
The P9030 transmitter complies with the Wireless Power Consortium's (WPC) Qi standard, delivering a 5W single-chip solution in a compact package. IDT wireless power transmitters and receivers have also been designed into smart phones, phone accessories, wearables and charging stations.
Integrated Device Technology
www.idt.com