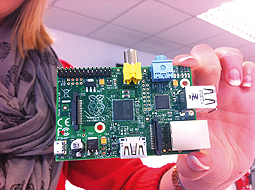 element14, the first collaborative community and electronics store for design engineers and electronics enthusiasts and a part of global electronics distributor Premier Farnell, announced its continued partnership with Raspberry Pi with the launch of a new 512MB board version of the revolutionary, credit-card sized computer. Now with double the RAM, the new higher performance Raspberry Pi 512MB board is suited to multimedia, high-memory and mobile applications. The additional memory is also an enabler to allow the Raspberry Pi to run a future version of an Android 4.0 operating system.
The 512MB Raspberry Pi board is being manufactured for element14 in the UK by Sony UKTec, as part of the multi-million pound manufacturing deal, which was announced last month. element14 has global stock of the Raspberry PI 512MB board available now on a first come first served basis through its brands Farnell element14 in Europe, Newark element14 in North America and element14 in Asia Pacific, as well as through subsidiaries CPC in the UK and MCM Electronics in the US.
Costing $35, the same as the previous board, the Raspberry Pi 512MB will initially be sold in one uncased configuration – which has two USB ports, 512MB of RAM, HDMI port, SD memory card slot and an Ethernet port. With 512MB of RAM, the faster, more rapidly accessible memory can be used to create a more effective multimedia performance. It also means that both CPU and GPU both now have sufficient RAM to function
optimally.
element14
www.element14.com