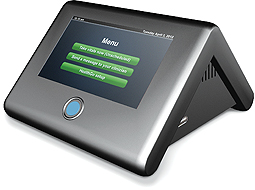 HealthGO is the Industry's First Fully Customizable Technology Platform for Remote Patient Monitoring
eDevice introduced HealthGO, a complete technology platform for Remote Patient Monitoring based on Freescale Semiconductor's Home Health Hub (HHH) reference platform.
HealthGO is a Remote Patient Monitoring technology platform designed for medical device and healthcare monitoring companies seeking to quickly roll‐out an end‐to‐end innovative, customized and reliable solution. HealthGO‐based telehealth solutions increase patient quality of life and quality of care through accurate and focused medical home‐based monitoring.
The need for connected healthcare is growing and the increase in life expectancy, the cost of the chronic diseases and the financial pressure on the healthcare system will further accelerate this growth. At the end of 2011, according to Berg Insight, only 2.2 million patients worldwide were using a home monitoring service based on equipment with integrated connectivity, while more than 200 million people in the EU and the US suffer from one or several diseases where home monitoring can become a treatment option. The number of home monitoring systems with cellular connectivity integrated is projected to grow at a CAGR of 34.6 percent during the next 5 years.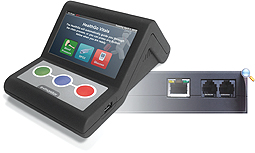 With the HHH and its team of application specific experts, eDevice has built a range of "universal medical gateways". The HealthGO will be branded and marketed by home monitoring companies, whose quality and regulatory constraints are very important. Internally specifying, designing, developing and testing the hardware products would drain an important part of their financial resources and skilled staff. eDevice allows them to focus on their core business and offers them the possibility to launch a complete solution without going through the long, expensive, and risky process of creating a new monitor.
The HealthGO monitors are complete and customizable. They come with vital sign monitoring, USB and Bluetooth peripheral interfaces, embedded Blood Pressure monitor (optional on HealthGO+), touch‐screen, embedded microphone and speaker, disease management possibilities, capability to display information, messages, weather or heath education tutorials. Both the firmware and the hardware of the HealthGO are customizable by the client. An API is available for in‐house development of the client applications and graphical user interface and the casing can be modified to fit client requirements.
The HealthGo is part of eDevice's complete remote monitoring offer, which also includes Worldwide Cellular Connectivity and Services & Logistics Portal.
Freescale Semiconductor
www.freescale.com