Dialog Semiconductor plc, a provider of highly integrated power management, AC/DC power conversion, solid state lighting (SSL) and Bluetooth® Smart wireless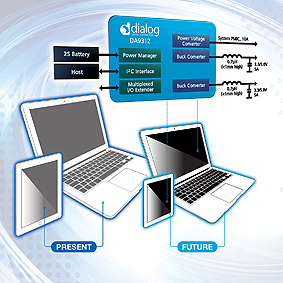 technology, announces the DA9312, a power management IC that enables the design of smaller, thinner notebook computers and tablets powered by dual cell stacked (2S) Li-ion or Li-Polymer batteries. The notebook industry is moving towards designs powered by 2-cell, rather than 3-cell batteries and tablets are moving from single cell to 2-cell batteries. Dialog is supporting these trends with the most integrated power management solution currently available.
Using the DA9312 with a just few external components requires only 80 mm2 of board space, a fraction of that of discrete component power converters. The device delivers industry-leading efficiency of 98%, minimising thermal management challenges and boosting product reliability.
Rated at 90W, the DA9312 is the first high power device of its type in the industry. It accepts an input voltage from 5.5V to 10.5V, which then feeds three independent power supplies. The main power converter uses capacitors to store charge and requires no external inductor. The device's two high-frequency buck converters switch at a frequency of 1.5MHz, so tiny 1 mm high inductors and very small capacitors can be used on the outputs.
The power converter, which outputs half the input voltage, is rated at up to 10A and the two buck converters can each deliver up to 5A at between 2.8V and 5.35V. Alternatively, the buck converter outputs can be combined to turn the device into a dual phase regulator capable of supplying up to 10 A on each output. All power supplies within the PMIC have integrated FET power switches to minimise external component count and board size, and no Schottky diodes are needed. The DA9312 comes in a WL-CSP 6.345 x 2.815 mm package and implements Dialog's RouteEasy™ ball layout for high density routing on low cost printed circuit boards. The PMIC operates with a die temperature from -40°C to +125°C.
Dialog Semiconductor
www.dialog-semiconductor.com