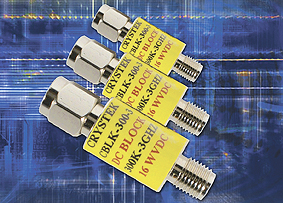 Block DC voltage from 300KHz to 3GHz
Crystek's line of CBLK DC Blocks are designed to block DC voltage while passing frequencies from 300 KHz to 3GHz. These DC Blocks are ideal for use in broadband coupling and test & measurement applications.
Crystek DC blocks produce a flat frequency response, they offer low insertion loss (0.02 dB at 300KHz; 0.20 db at 3GHz) and excellent return loss through 3GHz (14dB male and 15dB female). DC input voltage is rated at 16 WVDC (max.); operating temperature range is -55 to +90?C.
Crystek DC Blocks are available immediately from Crystek's stocking distributors. For pricing details, contact Crystek Corporation. Family datasheets are available for download at www.crystek.com.
Crystek Corporation
www.crystek.com