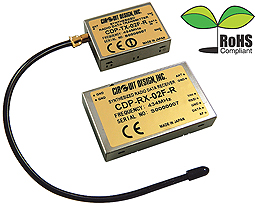 Circuit Design, Inc., the leading supplier of narrowband radio modules, has developed an RoHS compliant embedded industrial radio transmitter, the CDP-TX-02F-R and receiver, the CDP-RX-02F-R. The products are available from February.
The CDP-TX-02F-R / CDP-RX-02F-R radio modules, which use narrowband FSK, were developed for industrial applications where high performance and reliability are required.
Nearly the entire field of the European ISM band from 433.1875 MHz to 434.7750 MHz is covered by the 128 channels, preprogrammed in 12.5 kHz steps. In order to enable 1 mW/10 mW output switching, the modules support all fields where a 1 mW 100% duty cycle is permitted, as well as the sub band where a 10 mW 100% duty cycle is allowed.
As with the CDP-TX-02E-R / CDP-RX-02E-R which has already won praise for its superior reliability and ease of use, the CDP-TX-02F-R / CDP-RX-02F-R offers a simple interface that enables users to develop radio equipment in a short time, with a high degree of confidence.
Circuit Design
www.cdt21.com/products/tx_rx/cdp02f/