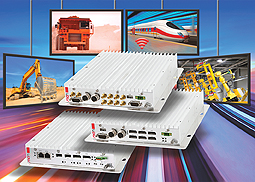 MEN presents another member of their family of modular box and panel PCs. Offering a high-performance processor from the AMD Embedded G-Series, the I/O required in the market, a wide-range PSU with 16 to 36V and a robust, maintenance-free enclosure, the BC50I is especially suited for demanding industrial applications.
Innovative and extremely flexible
A conduction-cooled, scalable enclosure (with or without display) together with a CPU board and a freely configurable I/O board – these are the features characterizing MEN's customized "off-the-shelf" box and display computers.
The latest box PC from this family has been developed especially for industrial applications, for example, for machine monitoring and control or for use in utility vehicles and robots.
The BC50I is based on the AMD T48N G-Series APU with a core frequency of 1.4GHz. If less or more is needed in terms of graphics performance and power consumption, any other APU of the Embedded G-Series can be selected.
At the front, two Gigabit Ethernet channels are available on RJ45 connectors, as well as two USB and two D-Sub connectors for serial interfaces or CAN bus. Two DisplayPorts with a maximum resolution of 2560×1600 pixels each deliver HD quality for graphics applications. Antenna connectors for a PCI Express Mini card slot can also be accessed at the front. 2GB DDR3 SDRAM, a microSD and an mSATA slot provide the necessary mass storage capacity.
The BC50I is equipped with a 16 to 36V wide-range power supply and able to operate in a -40 to +70°C environment. Together with the robust and conduction-cooled housing the BC50I is a safe solution for high requirements. Price starting from EUR 995 plus VAT for single units.
MEN Mikro Elektronik
www.men.de