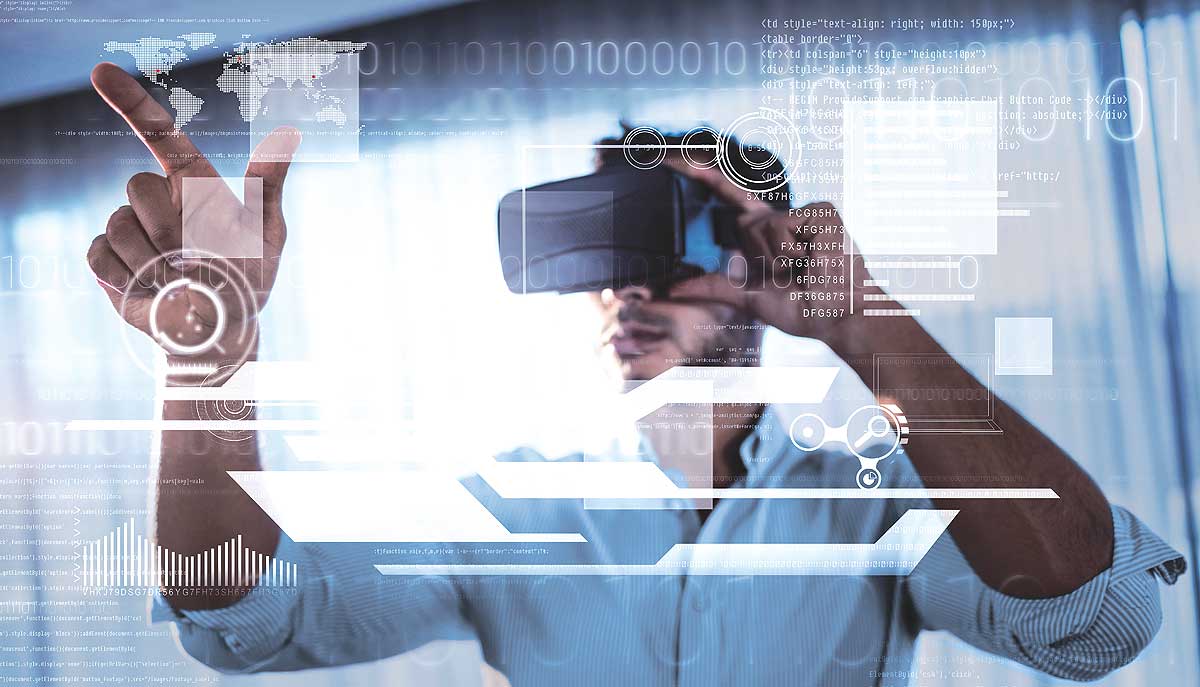 Obelix fell into a cauldron of magic potion, Popeye downs a tin of spinach, and in Disney's Adventures of the Gummi Bears the bears drink gummiberry juice to overcome the borders of reality. Heroes from our childhood therefore use special aids to make them stronger, faster, and smarter than the rest. Today, we have technical tools at our disposal with which we can break down the natural limits. They create an augmented reality (AR) or even a virtual reality (VR). In contrast to virtual reality, where users find themselves in a completely computer-based reality, the human perception is only augmented or supplemented in augmented reality by computer-based information or presentations.
Augmented reality in smart homes
If a tent had been on fire in Gaul in 50 BC, Obelix would only have had to clap his strong hands to put it out and restore peace to the village. Unfortunately, it will not be that easy for firefighters in the foreseeable future, but increasingly networked sensor systems do offer considerable support. One element is fire detectors which are now mandatory in almost every German federal state. More and more manufacturers offer variants with integrated wireless interfaces, ensuring lights are switched on automatically, roller shutters opened, windows closed, and entrance doors unlocked in the event of an alarm. Smart cameras inside the apartment have already informed the fire department about how many people are still trapped in the danger zone. Thanks to fitness wristbands and watches, the firefighters even know whether these people are in a state of shock, panic-fueled or fast asleep. The firefighters receive all the relevant information directly and accurately from the cloud – via transparent displays, holography or regular displays that present real camera images together with information from the cloud.
"In order to obtain a precise position very quickly even in critical environments, current satellite receivers use the signals from up to five different GNSS systems," explains Daniel Barth, head of Rutronik's Wireless Competence Center.
Even before the launch of the first iPhone, Rutronik pursued the vision of a networked world and established the Wireless Competence Center in 2005. Since then, the globally active team has been supporting development engineers, e.g. in the field of safety technology. "It all started with simple GPRS/GPS combinations in order to send GPS coordinates to a database server," Daniel Barth recalls. "Today, most receivers employ several systems, and LTE has replaced GPRS. It's better developed, more energy efficient, and future proof as 4G/LTE is still being further developed, in contrast to 2G/GPRS and 3G/UMTS which have already been discontinued in some countries."
Additional positioning using cell localization of the cellular wireless transmission stations can save lives in case of complete GNSS failure. "Thanks to the falling costs for wireless hardware and an increasing number of WiFi networks in residential areas, one should not do without this additional tracking method for new developments – first and foremost because we're expecting further expansion of the infrastructure now that 'Stoererhaftung' (Breach of Duty of Care) for WiFi networks has been abolished in Germany," claims Barth.
Assisted-GNSS, i.e. the fast download of Almanac and Ephemeris data from the Internet, also reduces start-up times and often even the total energy balance of the application, depending on the respective application scenario and set wake-up behavior. Rutronik's product portfolio includes, for instance, Telit SL871L for this purpose. The small module with a footprint of just one square centimeter supports GPS, Glonass, Beidou, and Galileo. In contrast to other common receivers, it features an additional low-noise amplifier for increasing the sensitivity even further. Active antennas can be connected directly. Downloaded Ephemeris files can be injected immediately into the module. The product concept of Telit allows for variants of Flash or ROM, with or without LNA as well as with or without support from Russian, European or Chinese satellites. "By combining the module with cellular wireless, e.g. with a module from the xE910 or xE866 family, two important key components are perfectly equipped. We recommend the Redpine RS9113 family as a supplement. Since WiFi enables both rapid localization and high speed communication and also works perfectly with an intact cellular phone network and GNSS," says Barth.
Augmented reality within Industry 4.0
The global information networks of industry and the 'smart factories' only become controllable with the respective visualization systems. Since the achievable level of automation is gigantic and almost nobody understands the system as a whole.
In an industrial green house, for example, machines sow, harvest, and package goods fully automatically. In this scenario, the nutrient content of the irrigation and shading systems is controlled automatically and pollination is released using the weight of beeyards. Real-time POS data from the surrounding supermarkets determine what is to be cultivated. But what happens if the harvesting machine suddenly harvests everything or the packaging plant fails? Each fault that occurs anywhere in such a networked system can easily lead to enormous costs.
AR technology can provide valuable help in this respect: Data glasses can show a worker or fitter the right screw to be turned or display work steps for replacing a defective valve.
This changes the business model of plant manufacturers: In a couple of years, they will earn less money with service technicians than with the provision of AR services. Annual contracts for accessing digital maintenance and repair manuals may sound quite absurd today – but the idea that automobiles would be a serious competitor to horses was not a common belief at the beginning either.
In order to further enhance the performance of data glasses, Rutronik already offers its customers initial modules that are compatible with standard IEEE802.11ad – something not even offered by Google Glass. The "ad" technology enables the transmission of high resolution and uncompressed ultra HD (3840×2160 pixels) videos with congenial high frame rates and thus replaces, for example, an HDMI cable. Anja Schaal, WiFi specialist at the Rutronik Wireless Competence Center, provides an example: "We recommend the Intel® Tri-Band Wireless-AC 18260 to anyone who wishes to become familiar with the new ad technology. Combination with the antenna module Intel® Wireless Gigabit Antenna-M 10041R and the wireless dock module Intel® Wireless Gigabit Sink W13100 results in a perfectly attuned IEEE802.11ad system which can be used as the basis for developing individual applications.
For high-volume productions, it is of course possible to change to smaller designs." Besides the 60GHz band, the card also supports the common 2.4 GHz and 5 GHz WiFi frequencies – with 867 Mbps thanks to 2×2 streams. Bluetooth 4.2, Intel vPro Technology, and the Intel® Wireless Display standard are also supported. "In addition to this, our customers receive a board which has been adapted to the application. Up to now, we've had very good experience with the Fujitsu industrial mainboards, for instance in ATX or ITX format, or an Advantech embedded board. Both manufacturers are Intel certified partners so that we can work closely together and realize specific wishes, too."
Augmented reality and love
Smartphones have become a crucial tool in people's lives; certainly for personal affairs like online dating: The prince or princess of your dreams must be somewhere on Tinder, Lovoo, Badoo or Friendscout24… You might be right in thinking that a set of augmented reality glasses can transform every potential candidate into a "great looker", but this will not make for a happier relationship in the long term. But what a set of data glasses can do is recognize facial features, including searching and comparing data from various databases. If you see an object of desire while shopping in a supermarket, for example, you will be provided with a list of additional information: Age, common friends, bands you both like… If you are interested in getting to know the person better, all it takes is for you to inconspicuously turn a networked ring on your finger and he or she will receive a virtual alert which they can either accept or decline.
This scenario is currently in the development stage. Special beacons for singles are also available. These electronic beacons transmit an ID code. Based on the RSSI (Received Signal Strength Indication) evaluation, it is possible to show the distance to the beacon quite accurately. The dating service provider converts the ID code into contact and Facebook information upon payment of a fee.
These beacons as based on battery-friendly Bluetooth smart technology and currently use the leading solution Nordic Semiconductor nRF51822. This chip combines the 2.4GHz transceiver, an ARM Cortex M0 microcontroller, AD converter, flash memory, and other useful peripherals in a compact 3.8mm × 3.8mm package. With a working temperature of up to 105°C, it can also be used in harsh industrial environments or at a kitchen stove.
But the best thing about this hardware is the available software: Nordic is seen as the inventor of this Bluetooth variation, is a board member of the Bluetooth Special Interest Group, and has placed the highest priority on developing protocols, profiles, and applications ever since development of the first BLE-TRX (nRF8001).
"This advanced level of know-how comes to the fore in the latest generation, the nRF52832," claims Lan Hong, Rutronik's specialist for Bluetooth Smart and the ANT protocol. "Nordic has again managed to increase overall efficiency by updating the transceiver unit and integrating an M4 core. This requires considerably less calculation time which enhances battery life." In addition, there are larger RAM and flash options, an integrated Balun filter, and an on-chip NFC tag for fast pairing. This new technology also enhances the size of beacons for singles while at the same time extending the lifespan of the button cell and facilitating connection to a Smartphone through a simple touch motion. "Once again the best specials of this platform are not found in the data sheet but in the free software," says Lan Hong.
Displays with feelings
Thanks to the Hollywood blockbuster "Minority Report", in which Tom Cruise stands in front of transparent displays, waving his hands to swirl text and moving images across the screen, many people have such monitors in mind when they hear the term AR. In reality, the launch of a professional, industry-relevant display of this nature is not expected until 2017/2018.
However, a brand new touch-screen experience can be enjoyed today: Tactile displays from TNE (Tianma NLT Europe) are stimulated by high frequencies to allow users to actually tactilely sense leather, stone, metal or wood. Buttons can suddenly be felt on the glass surface. For example, drivers will be able to view operating displays in cars without having to take their eyes of the road. The 3D displays from NLT offer completely new perspectives in connection with a Kinect camera: Once the camera has detected the position of the user's head and eyes, the display presents relevant objects automatically at the correct angle.
Initial demonstrations by the manufacturer show how all remote maintenance tasks will soon be carried out virtually. This could not even have been accomplished by the heroes of yesteryear.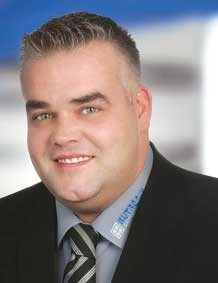 By: Bernd Hantsche,
Marketing Director
Embedded & Wireless

---