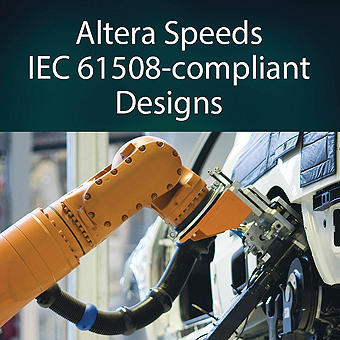 Altera Corporation announced the availability of the latest version of its Industrial Functional Safety Data Package (Ver. 3), www.altera.com/solutions/industry/industrial/ applications/automation/functional-safety.html – for systems designers using Altera field programmable gate arrays (FPGAs). The safety pack provides TÜV Rheinland-certified toolflows, IP and devices including Cyclone V FPGAs, enabling faster time for market for industrial safety solutions to IEC 61508 up to Safety Integrity Level 3 (SIL3).
Under industrial safety mandates, industrial equipment must be certified to ensure electrical, electronic or programmable electronic systems that carry out safety functions meet industry-standard safety guidelines. Generally, such products must fulfill requirements of the IEC 61508 standard to safety integrity level 3 (SIL 3), and meet the ISO 13849 standard to performance level category 4 (PL e Cat 4.)
In addition, as the complexity of safety designs increases, the need to provide advanced safety functions and to integrate safety functionality with the application, has led to the need for advanced certified toolflows, such as Altera Safety Design Partitioning toolflow, offered in this latest version of the Functional Safety Data Package. This partitioning toolflow gives designers the ability to separate the safe and non-safe portions of the design, allowing user updates of the non-safe portion with minimal safety re-certification effort.
Altera-based Board from NewTec Now Available Altera, also announced the availability the Cyclone V-based SafeFlex Functional Safety board from partner NewTec GmbH, which was demonstrated at the SPS IC Drives event in Nuremberg, in November, 2014 and satisfies the requirement for IEC 61508 to SIL 3in addition to ISO 13849 to PL e Cat 4.
Altera
www.altera.com