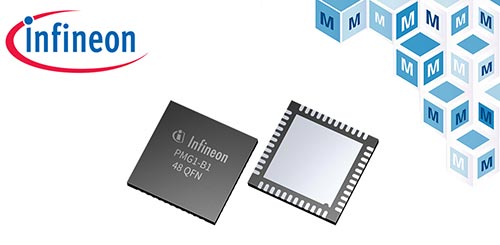 Mouser Electronics, Inc., the New Product Introduction (NPI) leader™ empowering innovation, is now stocking the EZ-PD™ PMG1-B1 USB Type-C™ microcontrollers from Infineon Technologies. The EZ-PD PMG1-B1 microcontrollers provide engineers with an integrated, one-chip solution for high-voltage USB-C™ applications requiring a flexible and secure MCU and a reduced bill-of-materials (BOM), like power tools, small appliances, E-bikes and more.
The EZ-PD™ PMG1-B1 microcontrollers, available from Mouser Electronics, are highly integrated, single-port USB-C Power Delivery (PD) solutions. These high-voltage, programmable USB power delivery systems feature an integrated Arm® Cortex® (-M0/M0+) processor, 128-KB flash, 16-KB RAM and 32-KB ROM, plus analog and digital peripherals.
The EZ-PD PMG1-B1 also features integrated buck-boost controllers. These controllers offer integrated gate drivers for VBUS NFET on the consumer path for sink applications and hardware-controlled protection features on the VBUS.
The EZ-PD PMG1-B1 supports a wide input voltage range (4 V to 24 V with 40 V tolerance) with programmable switching frequencies (150 kHz to 600 kHz) in an integrated USB power device solution. The EZ-PD PMG1-B1 also features an integrated hardware crypto engine with vector unit, and a wide ambient temperature range of -40°C to +105°C with a +125°C operating junction temperature.
To learn more about the EZ-PD PMG1-B1 USB Type-C microcontrollers, visit https://www.mouser.com/new/infineon/infineon-ez-pd-pmg1-b1-mcus/.