Duris S 10 is the latest addition to the Chip Array SMD family (CAS) from Osram Opto Semiconductors. This new LED is characterized by high efficiency, high light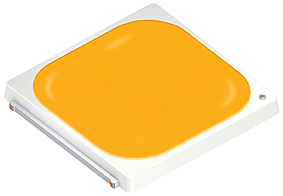 output and uniform color appearance. It is available at distributor Rutronik as of now.
The new LED's efficient SMD technology makes assembly simple, leading to significant cost savings in system and optic design. The Duris S 10 is available in two output classes with typ. 1050lm or 1400lm at 3000K. Both have a CRI of 80 and a CCT of 2700K up to 6500K. The forward voltage is 28V or 37V respectively. Both Duris S 10 CAS LEDs are binned according to the familiar MacAdams ellipses, resulting in a more uniform color appearance.
The LED's light-emitting surface of only 7.7mm in diameter forms the basis for compact optics and extremely narrow beam angles of 120°. Thanks to this small size, the design of the optics is also simpler, making it easier to integrate standard accessories such as lenses and reflectors. The lumen packages are specifically for standard applications such as MR16 retrofits, and enable lamp and luminaire designs to be created on the basis of a single Duris S 10. Therefore, the LED is ideal for use in spotlights, downlights, and directional and omnidirectional retrofits. In view of the surface-mounted design of the LED, a pc board has to be incorporated in the luminaire.
Rutronik
www.rutronik.com