MSC Technologies, a business group of Avnet Electronics Marketing EMEA, a business region of Avnet Inc. (NYSE: AVT), delivers the first engineering samples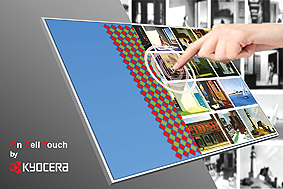 of LCD modules made by Kyocera based on an innovative on-cell technology. The new on-cell technology ensures an excellent optical performance and good readability of the display coupled with small thickness and reduced weight.
For the on-cell technology, the projected capacitive (PCAP) touch sensor is attached directly to the glass front of the display. The polarizing filter is attached above it, without any air gap to the touch screen. The touch-screen controller is also fully integrated in the display module. Because the touch-screen panel and the controller are less subject to the electromagnetic radiation of the LC display and the application environment, they operate with significantly lower radiation effects than displays with separately glued-on touch screen. Furthermore, the simple integration of on-cell LCD modules is possible.
The 7 inch (17.8 cm) TCG070WVLRxPCxGDx118/117 TFT modules with USB/I²C interface are available as first samples. The resolution is 800 × 480 pixels with aspect ratio 15 : 9. The contrast ratio is specified as 650 : 1. The displays are based on wide-view technology with 85 degrees in all directions and achieve a brightness of 500 cd/m². The 30-pin single channel LVDS data interface with 6-bit RGB supports a color palette of maximum 262 K colors.
The outline dimensions of the LCD module are 169.8 × 109.7 × 9.2 mm. The active area is 152.4 × 91.44 mm. The display surface is equipped with an anti-glare film that has anti-fingerprint treatment. Thanks to its very good readability, the display is also suitable for outdoor applications. The extended operating temperature range is -30°C to +80°C.
For applications that require the display to also be read in bright sunlight, the TCG070WVLR×PC×GD×140 model is offered with I²C interface and optically-bonded cover glass.
MSC Technologies
www.msc-technologies.eu