German display manufacturer Electronic Assembly has added the EA WLAN-TH temperature and humidity data logger to its product portfolio. The device captures measurements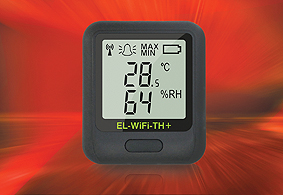 and transmits the results via a WiFi link to a PC for data analysis. High precision and long battery life are two outstanding features of the logger.
Temperature measurement on the EA WLAN-TH is accurate to within ±0.3 °C. The maximum error for relative humidity is ±2.0 %. The data is sent over a wireless link to a PC. PC software which is available free of charge or standard spreadsheet software such as Excel can be used to display the results. While installation the sensor searches for an available wireless network during the configuration process. It is also connected via USB cable to the PC. Once this process is complete, the sensor can be placed anywhere within range of the wireless network. If the wireless connection is temporarily lost, the sensor stores the measurement data for up to 120 days at a data acquisition interval of 10 seconds until the connection to the PC is restored. The EA WLAN-TH already has an impressive range. However if necessary, WiFi extenders can be used to increase the range.
The EA WLAN-TH comes with a rechargeable LiPo battery. Running in a standard configuration at room temperature transmitting data about every five minutes, the battery can be expected to provide power for more than a year before it needs recharging via a standard USB connection. A cable is provided. Continuous power can also be supplied to the sensor from a USB source.
The PC software provides setup, data recording and data display functions. The sensor name, choice of degrees Centigrade or Fahrenheit, sample frequency and the upper and lower temperature thresholds which trigger an alarm are user selectable. The sensor is designed as a free-standing unit but mounting hardware is also provided for wall attachment. A WiFi alarm unit is also available which can be located at the "other end" of the WiFi to generate a loud acoustic alarm as well as an optical alarm when a value above or below the thresholds is detected.
Please visit us at electronica 2014 in Munich –
Hall A3, booth 201.
ELECTRONIC ASSEMBLY
www.lcd-module.de