MSC Technologies offers an extended product portfolio of modern displays with and without touch screen for medical devices. The solution provider focuses on leading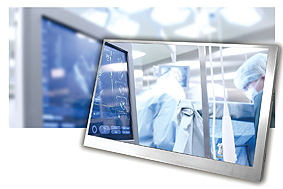 display manufacturers and touch technologies developed in-house, in order to fulfil the various customers' requirements.
The high-class displays for diagnostic and monitoring systems in the medical technology sector offer high resolution, good contrast and realistic color reproduction. The panel systems meet special requirements with regard to quality to ensure a secure operating and a long lifetime of the medical devices. Other important criteria include long-term availability of all components and delivery reliability that is suitable for the innovation cycles of the medical sector. Any major change made to the device requires a new complex, lengthy approval or certification.
Specifically for medical image systems, MSC Technologies supplies the TX18D200VM0EAA TFT display from KOE Europe with a size of 7 inch (17.8 cm) and Full HD resolution. The panel uses the latest Advanced IPS (in-plane-switching) technology and features 170° vertical and horizontal viewing angles. Excellent optical performance is ensured with a contrast ratio of 800:1 and a brightness specification of 700 cd/m².
MSC Technologies
www.msc-technologies.eu