MSC Technologies, presents NL8048AC19-14F (17.8 cm/7.0"), NL8048AC19-13 (17.8 cm/7.0"), NL8048AC21-01F (22 cm/8.0") and NL12880BC20-07F (33.3 cm/12,1") from NLT Technologies with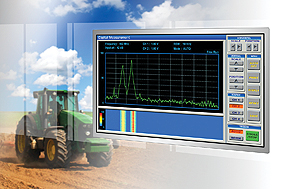 a luminance of 1000cd/m², and 1500 cd/m² resulting in excellent viewability even in high ambient light environments.
These very robust displays are ideal suited for display applications in outdoor environments like for HMIs of Construction and Agriculture Machines as well as for Marine.
Main characteristics of the new modules are their 'Wide Format', the Strength against Vibration, a wide Temperature Range and an extremely long LED life time. The long-life LED backlights used in the new 17.8 cm/7,0" and 22 cm/8.0" WVGA modules have an estimated life span of 100,000 hours – equivalent to almost 12 years of continual usage. This results in easy, low cost maintenance for these displays. Adoption of the white LED backlight results in lower environmental impact since the backlights consume limited power and are mercury free.
MSC Technologies
www.msc-technologies.eu