MSC Technologies, a business group of Avnet Electronics Marketing EMEA, a business region of Avnet, Inc., announces and releases the new DITO sensors of GE Star. DITO (Double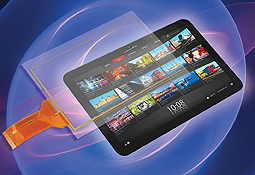 sided ITO) is a 0.55 mm thick glass substrate, with ITO layer on both top and bottom side. The advantages compared to foil/foil ITO are not only technical – there is as well quite a price difference, to the advantage of DITO. Using DITO together with S type controllers offers a very performing touch at a competitive price structure. For implementation of controllers as chipset on mainboards, we offer kits of maxTouch controllers with USB-RS232 bridge. GE-Star Projected Capacitive touch sensors allow the use of a customized front glass, which may contain up to 1 cm thickness and thus fits for any application from a mobile data logger to a cash point.
Dito sensors are additionally distinguished by an extremely strong adhesion of the FPC to the sensor, an extended temperature range and a very linear behavior. Since the sensor has only one layer ensures a high transmission. The compliant touch controller work with a burst voltage of up to +10.4 V, allowing extreme immunity to EMC critical conditions together with sophisticated algorithms.
MSC Technologies
www.msc-technologies.eu