The new XLamp XQ-E LED family of Cree combines the excellent performance of the XP-E2 in a smaller form factor by 78 percent and is now available from MSC Technologies.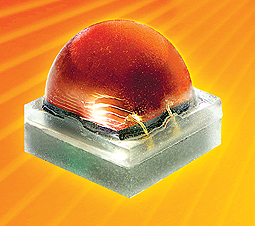 It opens up new design possibilities for a wide spectrum of lighting applications, such as portable, indoor directional, architectural and vehicle lighting. The new XQ-E LEDs have a tiny 1.6-mm × 1.6-mm footprint and are available in both white and color configurations. The XQ-E's combination of optical symmetry, consistent design across all configurations and its small size enables improved color mixing and optical control compared to the larger XP-E2 LED.
Built on Cree's revolutionary SC3 Technology™ Platform and characterized at 85°C, the XQ-E White LED is available in 2700-K to 6200-K color temperatures and offers minimum CRI options of 70 and 80. The XQ-E White LED delivers up to 287 lumens at 3W, 85°C. XQ-E Color LEDs are available in red, green and blue.
With the XQ-E LEDs it is possible to make smaller and cheaper lighting without sacrificing light yield, efficiency, and lifetime. It is therefore ideally suited for use in lighting applications such as flashlights, building and vehicle interior lighting and spotlights in the interior.
MSC Technologies
www.msc-technologies.eu