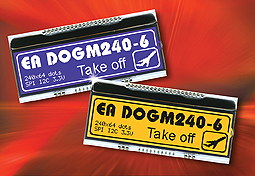 The EA DOGM240-6 is a new graphics display from Electronic Assembly. It is available immediately as a complete package featuring high-contrast supertwist technology (STN and FSTN). Also a backlight can be supplied, same as a touch panel and an USB test board can be ordered as optional accessories. The display comes with the UC1611s controller and a built-in graphics RAM. There are 3 different LED backlights to choose from (white, amber and a two-color red/green). The display can be ordered with white, black, blue or super white, reflective background. It runs on a standard 2.7V – 3.3V supply at temperatures between -20°C and +70°C. Current consumption is typically 500 µA. 3-wire and 4-wire SPI and I2C bus serial ports are available.
The long, compact display (94 x 40 mm external dimensions) is ideal for installation on 19" systems with 1 RU or more. A simulator which runs under Windows is availabe as a download on the website (keyword "DOG-Simulator"). It can be used to simulate all of the displays and colors without any hardware, making it very easy to view user-defined images and text that will appear on the display.
When the EA 9780-3USB test board is connected to the PC USB port, users can get an immediate impression of the display's contrast, viewing angle and brightness. For that absolutely no software skills are needed and the display is automatically powered from the UBS port.
See us at embedded world 2014 in Nürnberg/Germany – Hall 1, Booth 1-389!
ELECTRONIC ASSEMBLY
www.lcd-module.com