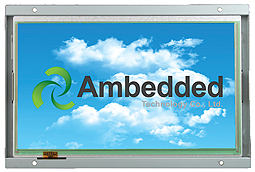 Ambedded Technology is pleased to announce the launch of it's latest high-end open frame Human Machine Interface(HMI) Jupiter CA9 series which are powered by Freescale i.MX6 application processor.
The Jupiter CA9 Series HMI unleashes a scalable multicore platform that includes single-, dual- and quad-core families based on the ARM® Cortex-A9 for next-generation applications. By combining the power-efficient processing capabilities of the ARM Cortex-A9 architecture with bleeding edge 3D and 2D graphics, as well as high-definition video, the Jupiter CA9 series provides a new level of multimedia performance to enable an unbounded next-generation user experience.
Next-generation graphics and high-definition video are centric to the Jupiter CA9 series. The Jupiter CA9 21" supports up to 1080p video playback, enabling exceptionally high-quality video with low power consumption for devices playing high-definition content. The 3D graphics engine in the Jupiter CA9 Quad and Dual core version are capable of providing up to 200 Mt/s, which enables ultra-vivid, realistic graphics critical for applications which combine the power of the main cores with the 2D/3D engines to perform computational tasks. The Jupiter CA9 series enables a new generation of smart devices, digital displays, industrial instrumentation panels and auto and aero infotainment with compelling features such as augmented reality applications, content creation capabilities and multichannel HD video processing for a new level of user experience.
Ambedded Technology
www.ambedded.com.tw