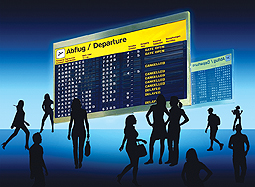 AUO are setting new standards in the area of large-scale displays and information panels with their 55" (139.7 cm) full HD public dual display P550HVN04.0. available as of now from Gleichmann Electronics.
With outside dimensions of 1363.2 mm × 816.2 mm, the world's first 55" dual display may be larger but with a depth of just 19.6 mm over 20 percent thinner than commonly available one-side 55" displays. In addition, the weight of the P550HVN04.0 is around 15 percent less than two individual displays in 55" format.
Thanks to two separate dual-port 8 or 10-bit LVDS interfaces, different content can be displayed on both differently bright pages at the same time. The 10-bit LVDS interface, luminances of 700 and 450 cd/m2 and a contrast ratio of 4000:1 guarantee an enormous depth of 1073,7 million colors in addition to high color saturation. Another outstanding feature of the dual display realized in multi-domain vertical alignment (MVA) technology is an ultra-wide horizontal and vertical viewing angle of 89° respectively, which makes such displays suitable for use both vertically and horizontally.
The dual display's LED backlights, which are designed for a typical life time of 60,000 hours at 25°, are supplied with power by a separate input with a 24 V current which can be dimmed if required. The power consumption of the 55" panel, which can be deployed within the temperature range between 0° to +50°C, is approximately 160 W.
For ideal activation of the P550HVN04.0, an interface card developed by Displaign Elektronik & Design, a subsidiary of MSC, is available which can simultaneously drive the two displays with different picture content. The DIS 812C meets the bandwith requirements of high resolution 2560×1600 (2.5K) and also high refresh full HD 1920×1080@120Hz (3D) panels 2 HDMI©, 1 DisplayPort and 2 optional 3G/HD/SD-SDI inputs offer up to date connectivity.
A frame rate converter takes care that the panels are always driven with the specified timing, regardless of the input source. Also panel power will be selected automatically for each connected display. Detailed information on the P550HVN04.0 139.7-cm (55") full HD public dual display can be requested from display@msc-ge.com
Gleichmann & Co. Electronics GmbH
www.msc-ge.com