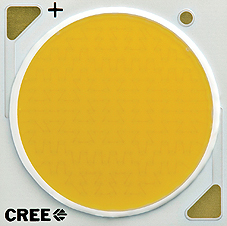 The two new Cree XLamp LED arrays for applications that require a very high light yield are characterized by a particularly long service life and low power consumption and can be purchased immediately at MSC.
The new CXA3590 LED array provides up to 16.225 lumens at 85°C. These are 68 percent more lumens compared to the previously brightest array of Cree. The CXA3590 LED Array is the ideal light source to replace 250-watt metal-halide fixtures — using 40-percent less power and designed to last twice as long. Cree also introduces the CXA3070 LED Array, which delivers more than 11,000 lumens at 85°C and shares the same footprint and package design as the existing CXA3050 LED. Both the CXA3590 and CXA3070 arrays are optimized to simplify design and enable low system cost. The new, high light-output LED arrays deliver up to 134 lumens per watt at 85°C and 70- to 95-CRI options.
Characterized and binned at 85°C, the new LEDs are available in ANSI white and EasyWhite® color temperatures (2700 – 5000 K), providing the industry's best color consistency for designs that use only one LED.
MSC Vertriebs
www.msc-ge.com