NLT Technologies (NLT), together with its sales and marketing channels in the Americas and Europe, Renesas Electronics America, Inc. and Renesas Electronics Europe GmbH, announced development of four new amorphous-silicon thin-film-transistor (TFT) liquid crystal display (LCD) modules. These modules are ideal for outdoor applications used boating equipment or construction devices.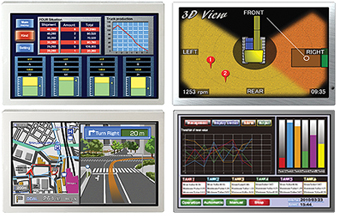 The new wide format TFT LCD modules are well suited for use in industrial display applications. They are equipped with long-life white LED backlight units that achieve high luminance and also contribute to lower maintenance costs for equipment and reduced environmental impact.
Samples of these products are scheduled to be available in October 2013.
The main characteristics of the new modules are as follows:
1) Ultra high luminance
The 7.0 inch NL8048AC19-14F and 8.0 inch NL8048AC21-01F have a luminance of 1000cd/m2, and the 12.1 inch NL12880BC20-07F has a luminance of 1500 cd/m2 resulting in excellent viewability even in high ambient light environments. The displays are ideal for display applications in outdoor environments.
2) Long-life LED backlight
The long-life LED backlights used in the new 7-inch and 8-inch WVGA modules have an estimated life span of 100,000 hours – equivalent to almost 12 years of continual usage. This results in easy, low cost maintenance for these displays. Adoption of the white LED backlight results in lower environmental impact since the backlights consume limited power and are mercury free.
The 12.1-inch, NL12880BC20-07F, utilizes NLT's proprietary color reproduction technology, ColorXcell, which enables vivid color reproduction of images without increasing power consumption. Use of an LED backlight in combination with NLT's ColorXcell technology achieves further reduction of power consumption.
3) Wide operating temperature range
All four of the new modules feature wide operating temperature ranges. The 7.0-inch WVGA and 8.0-inch WVGA modules have an operating temperature range of -30 to +80°C, and the 12.1-inch NL12880BC20-07F -20 to +70°C. The wide operating ranges of these displays guarantees stable operation even in very low and very high temperature environments. Typically displays used in outdoor environments are equipped with high power backlights in order to achieve sufficient viewability when exposed to strong light such as direct sunlight. Under these conditions LED backlights tend to require greater power consumption in order to achieve sufficient luminance to be seen in outdoor settings, this in turn shortens a backlight's lifespan. Achieving longer backlight lifespan and reducing maintenance costs of outdoor display equipment has, therefore, been a challenge.
Renesas
www.renesas.eu/display