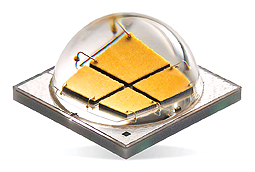 Mouser Electronics, Inc. announced it is stocking the new XLamp® MK-R LEDs from Cree, which leverage the SC³ Technology™ next-generation LED platform to deliver up to 200 lumens-per-watt.
Cree XLamp® MK-R LEDs are built on Cree's revolutionary SC³ Technology™ platform, delivering up to 200 lumens-per-watt (at 1W, 25ºC) enabling lighting manufacturers to create the next generation of high-lumen indoor and outdoor LED lighting systems. MK-R LEDs are available in EasyWhite® color temperatures, providing the LED industry's best color consistency for designs that use only one LED. For systems that use multiple LEDs, MK-R enables manufacturers to use fewer LEDs while still maintaining light output and quality, which translates to lower system cost. The innovative SC³ Technology platform leverages Cree's advanced silicon-carbide technology, features advancements in LED chip architecture and phosphor, and boasts a new package design to deliver the most advanced LED components in the industry.
The XLamp MK-R is optimized for directional lighting applications and is a welcome addition to applications requiring high lumen output, a compact optical source, and a broad palette of color temperature and CRI values. With its broad product line and unsurpassed customer service, Mouser caters to design engineers and buyers by delivering What's Next in advanced technologies.
Mouser Electronics
www.mouser.com
Cree
www.cree.com