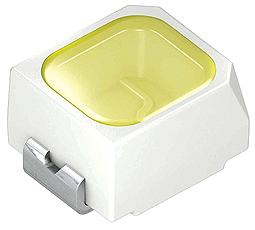 The new generation of the Mini Topled and Topled classics from Osram Opto Semiconductors in the successful standard packages, produce pleasant white light in a new brightness class. The new LEDs are available at distributor Rutronik as of now.
Providing features like durability, ESD resistance of 8kV, improved corrosion stability and certification to automotive industry standard AEC Q101, the new generation of Topled and Mini Topled is ideal for the interior illumination of buses, trains, aircraft and cars. Being low-power components, the LEDs consume only 0.1W and are therefore among the most economical on the market. They have a very long lifetime of up to 50,000 hours. Despite their low power their luminous intensity is impressive: From an operating current of 20mA and at a color temperature of 6000K the new Topled produces 2400mcd. From the same operating current the Mini Topled achieves a typical luminous intensity of 1700mcd at a color temperature of 4000K, and 1900mcd at 6500K.
The Topled measures 3.2 × 2.8mm and the Mini Topled's dimensions are 1.8 × 2.2mm.
Rutronik
www.rutronik.com