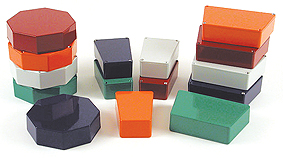 Virtually, every electrical or electronic equipment, even amateur one, needs enclosure. Why? After all, enclosure is not always necessary for the proper operation of the equipment.
There may be multiple reasons for that. Two, most common ones include: protection of users against electrical shock and widely understood protection of the equipment against influence of environment in which such equipment operates.
by Marcin Kajzler
The first important function of enclosure is to prevent from touching elements which are live and ensure that equipment is protected against direct contact. Such protection is the most basic way to ensure protection against electrical shock. If this is the only protection, then such equipment holds zero protection class. In such case, enclosure is made of non-conductive material: dielectric material.
Why can't this be a conductor? If a breakdown of any of the components happens to the conductive enclosure, it could lead to production of user's life-threatening potential. Metal enclosure should, therefore be connected to a grounding which is usually protective conductor or protective – neutral conductor.
Such equipment offers the first class of protection. In case of equipment damage, proper grounding will protect the user against voltage dangerous for their life. Enclosures connected to the grounding system, which are made of conductor, have one more advantage: they reduce electromagnetic emission of the equipment and shield it against influence of external interfering fields.
The second important reason of placing appliances in enclosures is the necessity of their protection against influence of environmental conditions, including water and solid bodies influence. The most popular system of equipment marking is a code in the IPyz form. A digit in the "y" position shows resistance to penetration by solid bodies, whereas the "z" position – shows resistance to water. A list of respective values and their meaning as per the PN EN 60529 standard are presented in the Table 1.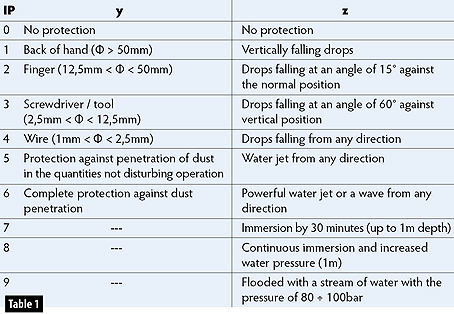 If a product does not require marking with any of the characteristic digits "y" or "z", then "X" is placed instead (e.g. IP2X – no specification of water resistance).
Enclosures used in special applications e.g. in equipment designed to operate in explosive conditions, require non-combustibility.
In practice, metal enclosures do not burn, and plastic ones do not burn with flame, however, they melt when exposed to high temperature.
Widely available metal enclosures are practically only aluminum enclosures. Steel enclosures are most often made to customer's individual order. Popularity of aluminum is due to its low weight, simplicity of machining and natural resistance to corrosion.
In case of plastic enclosures, the selection of materials is much wider. We can choose from three basic materials: ABS, polycarbonate and polystyrene. Below, there is a description of the most popular materials used for production of electric and electronic enclosures. Such list should help while making the selection of enclosure for a given application.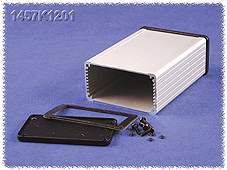 Aluminium
Aluminium, when in contact with oxygen from the air is covered with a thin film of aluminum oxide. This film tightly covers the whole surface and protects against diffusion inside the layer of oxygen particles which prevents further corrosion.
This phenomenon causes that aluminum enclosures virtually do not corrode thanks to which they do not have to be preserved. As a metal, aluminum is very light and easy to machine, however, it is not so much resilient. It reflects electromagnetic radiation very well.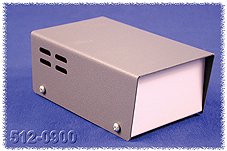 Steel
Steel enclosures weight more, are more resilient and resistant than aluminum enclosures. Additionally, they protect against external magnetic fields because steel is ferromagnetic. Steel reflects electromagnetic radiation better than aluminum, however, it is more prone to corrosion and sensitive to acids and bases.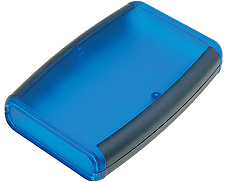 ABS (Acrylonitrile Butadiene Styrene)
ABS is a plastic material, one of the most popular materials used to make enclosures. This is a very hard material resistant to scratches and impacts, but at the same time it is susceptible to esters and acids, but also to UV radiation which might cause a change of its colour.
As one of the few plastics, ABS can be coated with metallic coat. Thanks to this, there is a possibility of producing ABS enclosure that will conduct current.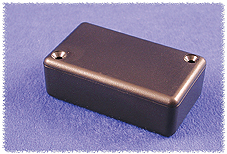 Polystyrene
This material is quite hard, but brittle. It easily Hades and its transparency leaves much to be desired. This is one of the cheapest plastics to produce that is why it is used for production of rather cheap enclosures, without any special mechanic properties.
Polycarbonate
Plastic with excellent mechanical properties and durability comparable with aluminum. Polycarbonate is exceptionally transparent for visible light. Since it is quite expensive material, enclosures made of it are less popular than those made of ABS.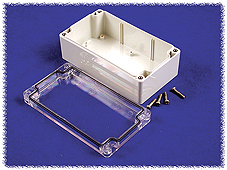 One of the most widely known manufacturers of enclosures in the world is Canadian Hammond which was established in 1917. At the beginning of its business activity, it produced, among others, radio sets and amplifiers. Sudden increase in the popularity of electric devices in the 50's and 60's opened new markets. Hammond company started to produce transformers and enclosures.
At present, Hammond offers many different types of enclosures which are available in all shapes and made of various materials. We can choose among enclosures designed for control panels of electronic appliances, console, for devices with displays, dust and water – resistant and many others. The list of available types of enclosures is very long. TME's offer includes over 500 Hammond enclosures, which means that there is much to choose from.
www.tme.eu