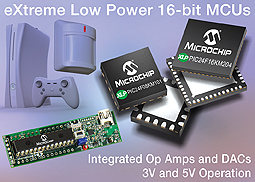 Microchip announces a new addition to its 16-bit PIC® microcontroller (MCU) portfolio with the low-cost PIC24F "KM" family. This family offers up to 16KB Flash, 2KB RAM and 512B EEPROM, along with advanced analogue integration, in low pin-count options for cost-sensitive automotive, consumer, medical and industrial applications.
The PIC24F "KM" family provides a new level of integrated analogue functionality such as a 12-bit ADC with threshold detection, 8-bit DACs for analogue control loops and precision comparator references, as well as op amps to assist in sensor amplifications. The PIC24 "KM" MCUs are the first to feature the new Multiple-output Capture Compare PWM Module (MCCP) and Single-output Capture Compare PWM Module (SCCP) peripherals, which include integrated timers and advanced PWM control to enable motor-control, power-supply and lighting applications. The MCCP and SCCP modules combine timers, input captures, output compare and PWM functions in a single time-base for optimal flexibility. These mo­dules include 16/32-bit timer support, and can operate from a high-speed clock for higher resolution due to their ability to operate asynchronously. They also allow for automatic operations during sleep mode, to optimise power consumption.
This is also the first PIC24 family to offer a Configurable Logic Cell (CLC) for increased on-chip interconnection of peripherals. The CLC module helps in creating custom real-time logic functions on-chip and is supported by the CLC configuration tool, which helps in coding the circuit graphically instead of in assembly or C, thereby saving time for the programmers.
In addition to advanced peripheral integration, the "KM" family includes support for both 3V and 5V applications.
Key Facts:
• New PIC24 Lite MCUs with on-chip op amps, 8-bit DACs, 12-bit ADC, flexible PWM modules and extreme low power technology
• First with Multiple-output Capture Compare PWM Module (MCCP) and Single-output Capture Compare PWM Module (SCCP) peripherals
• First PIC24 with a Configurable Logic Cell (CLC) for increased peripheral interconnection
• Low-cost Microsticks support development of 3V or 5V variants
MICROCHIP TECHNOLOGY
www.microchip.com/get/B7SP