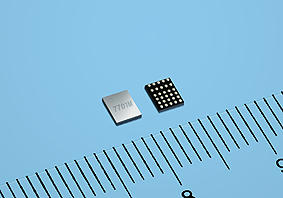 Renesas Electronics has developed the RAA20770X Series of mini-POL converters for ASICs and other large-scale logic circuits in a wide variety of application fields, including personal computers, servers, industrial, office automation and networking equipment. The RAA20770X Series devices achieve the industry's highest level of miniaturization and power density. Renesas is now releasing six products with different current supply ratings and functionality.
Recently, there have been two changes in power supplies market. The first is the requirement for reduced power consumption to achieve an energy-saving society, and the second is the increasing diversity in supply voltages required by increasingly highly functional semiconductor products such as microcontrollers (MCUs) and SoC devices.
To satisfy the first requirement, the new RAA20770X devices perform high-efficiency power conversion during normal load and – typically 90 percent of the time – also execute the frequent transitions to low-power mode quickly. As a result, they reduce overall system power consumption and help enable an energy-efficient society.
To satisfy the second requirement, although mounting area is spreading according to electric source increasing, the RAA20770X devices achieve a size reduction of about 75 percent compared to earlier Renesas products, featuring an ultra-miniature wafer-level chip size package that is essentially the same size as the chip itself. Furthermore, since no wired connections are required within the package, resistance in the wiring is reduced, which contributes to more efficient voltage conversion. The RAA20770X Series represents the first devices with this level of integration in this small a package size.
Key Features of the RAA20770X Series POL Converter ICs:
1) Contributing to system miniaturization with an area reduced by about 75 percent
2) Support for increased battery life
3) Ease of design for high-reliability power supply systems
4) Support for single-voltage power supply design
Renesas Electronics Europe
www.renesas.eu