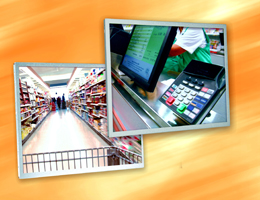 With the Basic Industrial Line by Chi Mei Innolux (CMI), Gleichmann Electronics will be offering a new inexpensive high-quality family of displays especially for cost-sensitive indoor industrial applications as from January 2013.
The first two members of the family, which are identical to the same-sized Classic Industrial Line models except for the integrated backlight unit, are the 30.7 cm (12.1") G121AGE-L03 SVGA display with an all-round viewing angle of 89°, 450 cd/m² brightness and a contrast ratio of 1000:1 and also the 38.1 cm (15") G150AGE-L05 XGA display with horizontal and vertical viewing angles of 160° and 140° respectively, brightness of 250cd/m² and a contrast ratio of 700:1.
In addition to a reverse scan function and a wide working temperature range of -30°C to +80°C, the displays also have an LVDS interface.
As with all other Industrial Line displays, CMI also guarantees that the two new 12.1" and 15" models G121AGE-L03 and G150AGE-L05 will be available for a minimum of five years from the start of production. Detailed information can be requested as of now from display-chimei@msc-ge.com.
Gleichmann & Co. Electronics GmbH
www.msc-ge.com