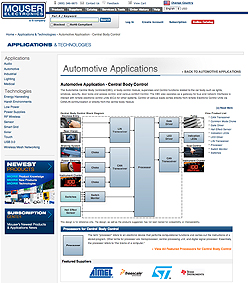 Mouser Electronics, Inc., builds on its current Automotive Application site on Mouser.com focused on Automotive Design. The newly enhanced site helps speed design engineers in finding the latest automotive advancements, sourcing product information via block diagram navigation, and pinpointing the latest technical resources, saving design engineers valuable time. The site also features a number of new products from industry-leading manufacturers, such as Texas Instruments, Murata, Molex, STMicroelectronics and Infineon, just to name just a few.
Mouser's Automotive Application site introduces four new application diagrams in Braking Systems (ABS), Electric Power Steering, Central Body Control and Seat Control. This is in addition to its focus of covering the Instrument Cluster, Rear Vision Systems, Keyless Entry, plus other insightful industry news and technical resources that gets engineers moving quickly down the design road. The site's block diagram navigation and streamlined graphical interface is designed to speed navigation. Combined with the Featured Products section, engineers can quickly steer themselves to products and information based on defined parameters and engineering standards – all centered on automotive-specific design needs. Engineers can review application notes, white papers, and videos, as well as automotive-ready products. To learn more, visit http://www.mouser.com/automotive-applications/
The newly expanded Automotive Applications site is part of Mouser's comprehensive Applications & Technologies sites available to assist the design process with solution-based content.
Mouser Electronics
www.mouser.com