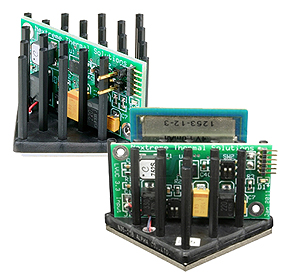 Laird Technologies, Inc.announced the release of its new ThermobilityTM Series Wireless Power Generator product line. The Thermobility™ Series are self-contained thin film thermoelectric power generators that harvest waste heat and convert it to usable output DC power. Due to its compact size, ability to regulate voltage and store power, these products are ideal to power wireless sensors, low power LEDs or trickle charge batteries where a heat source is readily available.
There are two products available for trial:
• WPG-1 up to 1 mW output power
• WPG-1S up to 50 mW output power
With their compact form factor and ability to harvest energy at the source, the Thermobility™ Series can be used in remote or mobile settings where a hard line is difficult to install. Many applications in petroleum and gas, commercial infrastructure, transportation and medical instrumentation which use wireless sensors to monitor temperature, composition or flow rate of gases and liquids will find value with integrating these products into their power source requirements.
As an industry leader in high-performance and cost-effective Thermal Management Solutions, Laird Technologies provides the knowledge, innovation, and resources to ensure exceptional thermal performance and customer satisfaction for applications in the medical, analytical, telecom, industrial, and consumer markets.
Laird Technologies
www.lairdtech.com